Editor's Note: Eiman is one of the founding members of Ignite Magazine. Having been a member of the magazine since November 2012, Eiman was also the Editor In Chief for the academic year 2013-14, you can find her written work for Ignite  here.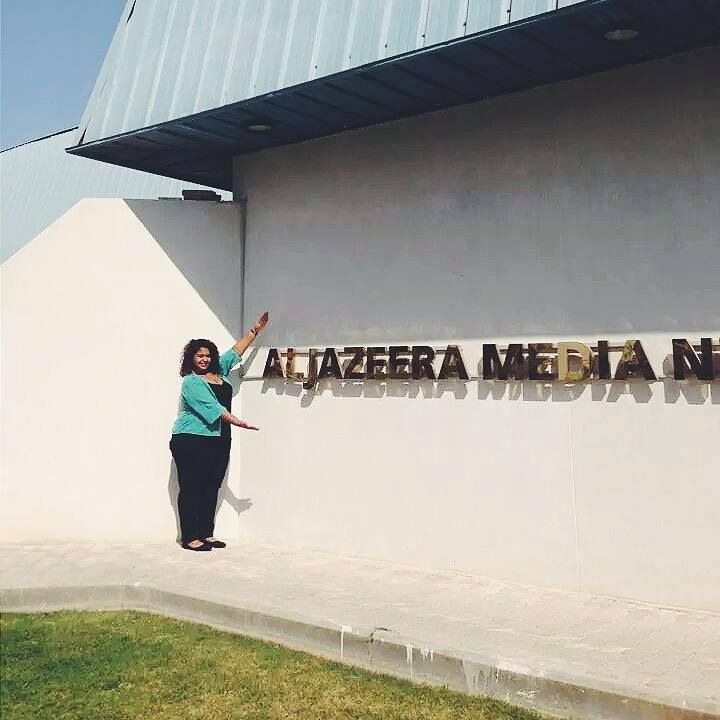 My name is Eiman Mirghani and I am currently a third-year student of International Communications with Film and Television Studies at UNMC. Born and raised in Doha, Qatar under the rule of Sudanese-Egyptian parents, I always had a fondness for the media – film and television in particular. So naturally, my parents would come to boast about how their daughter will one day lead the news hour on Al Jazeera English. These hopeful wishes echoed at the back of my mind when I walked into the Al Jazeera English (AJE) studio for an internship interview on June 20th.

After passing through the shiny blue gates of one of the world's leading networks for the past 2 years, my internship application was finally accepted and I was set to start off my first day at AJE's online department the following day.
Like anyone who would have been in my shoes, I was terrified. I must have been one of the youngest (if not, the youngest) people in the building at the time. But I always reminded myself to just relax and enjoy the ride. Two months later, when I walked out of the office for the final time, the eager girl who entered the building on June 20th seemed like a complete stranger to me.
That's when I knew for sure that not only is experience everything, but that the world we live in is beautifully insane.
In those two months, I witnessed the news breaking live in the studio of the devastating airstrikes in Gaza, the rapid spread of Ebola in Africa and ISIS in Iraq, Scotland's hopeful path to independence, Luis Suarez's shame and Mario Gotze's pride in the 2014 World Cup, the downing of MH17 and the wrongful imprisonment of journalists in Egypt (#FreeAJStaff) among many incredible events over the summer.
Working within the online department, I meddled in two sections of the AJE website which constituted a majority of my internship time – 'Shows' and 'Opinion'. In the Shows section, I temporarily took over the assistant producer role and learned everything from templating webpages to publishing online articles. In the Opinion section, I helped out within several 'regional desks' and contacted numerous people from the world over to comment and contribute to AJE's online community. I even helped in writing what can only be described as the most upsetting job ever created.
My whole time in AJE was amazing as it was exhausting, but most importantly, it was the greatest lesson that no class at UNMC could have ever offered me. As you can imagine by now, I have learned several important things, not just about my personal career choices, but also about the path towards whatever it is we university students aim to do with the rest of our lives. It doesn't matter if you're studying business, engineering, IR, or psychology. If you're in the middle of balancing course works, exams and a normal life while worrying about the "real world", here's a few things you might want to know.
(1) Experience, experience, experience
As I had mentioned above, my biggest realisation with working in AJE is that experience is everything. Most students place all of their time and efforts into their current university experience and not much else. Getting work experience prior to graduating is so much more than adding another line on your resume – it's a chance to peek inside the world you have chosen for yourself when you first enrolled in university. The good news is that you will finally understand first-hand all of the things your lecturers have been babbling about in your classes.
However, the bad news is…
(2) You will not love what you do immediately
If you think about whatever course you're studying, I'm sure you can think of hundreds of jobs that apply to it. The options are endless no matter what your chosen field is and it is important for you to determine your likes and dislikes, which, of course, can only be achieved through attaining experience (see 1). In my case, I have discovered that, although the work done within AJE's online department is absolutely valuable and important, having an "office job" is definitely not within my to-do list when it comes to the future.
It's not all bad, though.
(3) You may just discover something new and amazing
While working within the 'Shows' section, I discovered my underlying love for documentaries. Part of my job was to watch several episodes of AJE's many documentary shows (such as 101 East and People & Power), all of which told incredible stories from all over the world that were once completely unknown to me. Next thing I know, I bought a video camera and started recording short interviews with people around me, hoping to stumble upon something as equally incredible.
My internship has showed me many different paths I could take within my chosen field that would have otherwise never occurred to me. I could go on and on about all of the things I have learned through interning at Al Jazeera, but I know my words can only reach some heights for others. So to conclude, all I can say is this – get out there!
Get out there and gain some experience while it's still socially acceptable to have an unpaid internship!
The money you make does not matter just yet. Before it does, you need to know how you will get to the point of when you have made it. Figure out what you want to do and what your likes and dislikes are. The world out there is much bigger than you think and the options are endless. Choose wisely, but don't sweat it too much. Keep in mind that as long as it is within a field you love, you have already made the right choice.
Eiman Mirghani