IGNITE's Athletes Anonymous series aims to get a closer look at UNMC's promising young athletes. Sports Editor Andrew Chia kicks off the series with a profile of this year's Nation's Cup squash gold medalist.
Born and raised in Pahang, Tan Kin Loong (better known as Andy to most of his peers) was first introduced to the sport by his schoolmates, after they convinced him to join the school's Squash Club. At thirteen, Andy spent his Saturday afternoons playing squash as part of the club's training session. Compared to most amateur and professional players who started playing squash at tender ages, Andy was rather late to the game, but that did little to stop him from becoming a decent player. He was later recruited by the Pahang Squash Academy, where he was involved in various training sessions with coaches and players from the academy. This marked the beginning of his life as an amateur squash player.
Most young athletes find it hard to find the motivation to continue pursuing the sport that they excelled in during their high school days, but Andy was determined to make a difference. He spent his younger days admiring friends who competed in major tournaments such as the British Junior Championship. This became a form of encouragement to him, and he strived to follow in their footsteps. Apart from that, Andy stated that he was fortunate enough to have friends, coaches, as well as family members who offered him moral and financial support to fuel his passion for the sport.
No success comes without hard work: Andy trained four to five times a week during his secondary school days, with each training stint involving plenty of physical conditioning and skill-training. However, his parent's busy work schedules often left him with no means of transportation to the training center, thus limiting his training schedule.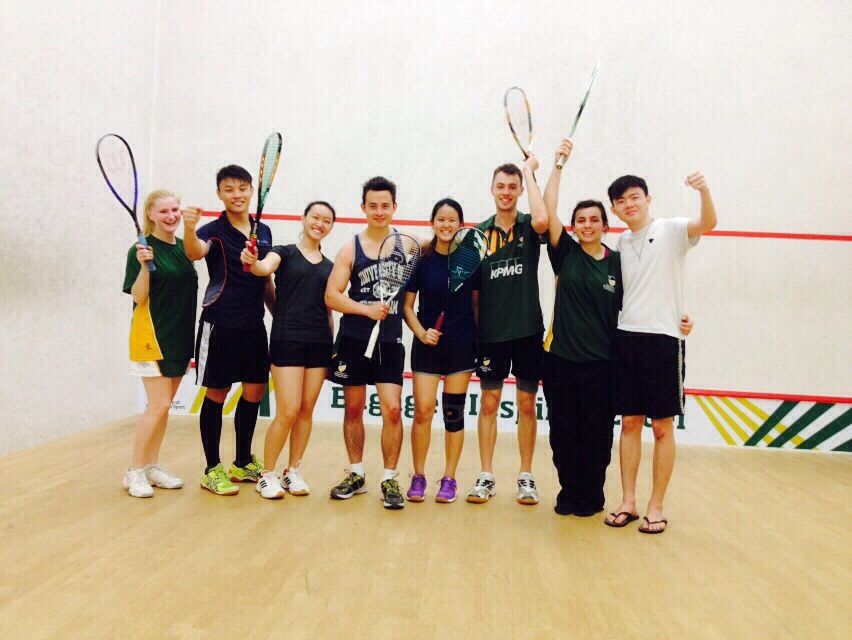 Andy (second from left) at the 2015 Tri-Campus Games held at Nottingham UK
Every athlete looks forward to winning matches in a competition, and Andy described the feeling of hitting the match point in the finals of the Nations Cup Squash event in euphoric terms:
"It was a really great feeling, especially when the last rally of the game felt as if it was the longest. During situations like this, I tend to be rather nervous and want to win the final point as quickly as possible but [I] have to be very careful not to make any unwanted errors."
Prior to his success in the 2015 Nations Cup, Andy had various stints in other major competitions nationwide. He previously played in domestic tournaments held in Pahang, Kuala Lumpur and Ipoh. The furthest he ever played was in Singapore. While he did not manage top placings in any of these tournaments, Andy mentioned that his participation certainly helped him improve his gameplay a lot, as he was able to study his opponents' skills and movements.
As a year 1 chemical engineering student, Andy admitted that his schedule will only get tighter as he progresses through his degree. He stressed upon the importance of time management in his life, as he still make it a habit to allocate training slots in his weekly timetable. Instead of fretting over his busy schedule, this promising athlete takes this as a challenge in life (and he feels that most students should be doing the same).
Andy also currently serves as the vice-president of the UMNC Squash Club, and he is enthusiastic about building a dedicated squash team at UNMC:
"I strongly encourage students who have genuine interest in playing squash at a competitive level to look for me, in which I will try my best to train you. It's never too late to start. All you have to do is to allocate 2 hours a day, 3 times a week, and you're good to go. I would love to have a proper, dedicated squash team in the club where we can join competitions together and gain vital competitive experience. It doesn't matter if we win or lose, it's all part of the game."
University life is short, and there will be a day when each student will have to adjust to the working world. However, this will not stop Andy from pursuing the sport that he loves:
Squash is in my blood.
Furthermore, he plans to regularly meet up with his high school peers who are currently in various education institutions for sparring sessions. Such passion and dedication to the sport is undoubtedly what has made Andy one of the top squash players in UNMC.
By Andrew Chia