With the new year rolling in and a new semester, will you embrace the revival of the 90's? Flaunt mega ruffles and brighten up your ensembles? 2016 is bringing in some of the biggest trends this season and giving us some serious style déjà vu (flatforms, anyone?). As much as the runway is the it place to look out for latest trends, street style has been incorporating genius tricks like transforming lacklustre, monochromatic blobs into contemporary hues. This week's StyleWatch will feature the reinvention of fashion's favourite patterns by our fellow peers on campus.
Hyder Siddiqui | Pakistan | 2nd Year Business Economics and Finance
From the Duke of Windsor to James Bond, business dress code remains the gold standard for work and formal attire; it's essential to get it right. However, it's far simpler than you think it is. We came across Hyder while attending a briefing conference held by Dell Inc. and struck up a conversation on men's formal wear. He opted for a crisp, white tailored shirt with a turndown collar, slate grey pants with plain hemmed bottoms which added a je ne sais quoi touch to his faultless look; and a pair of classic Pignatelli's which was the perfect choice to complete this look.
According to Hyder, dressing sharp gives him self-confidence and instant credibility with people he meets.
When people first see me or shake my hand they don't know what degree I am in, what family I belong to, or what I have done in my life. But they will see a sharply dressed guy standing before them who appears professional. And that's all I need, those precious few seconds, to state my case and make a positive impression.
Hyder's celebrity inspirations are David Gandy and David Beckham. Don't we love the Davids ourselves? He mentioned that the quality of his clothes come first rather than ongoing fashion. After all, Giorgio Armani says, "The difference between style and fashion is quality." The truth has been spoken. Amen!
Shirt tailored by Moosajees
Trousers from Topman
Shoes from Carlo Pignatelli
Watch from GC
Tan Wei How (Jay) | Malaysia | 1st Year Chemical Engineering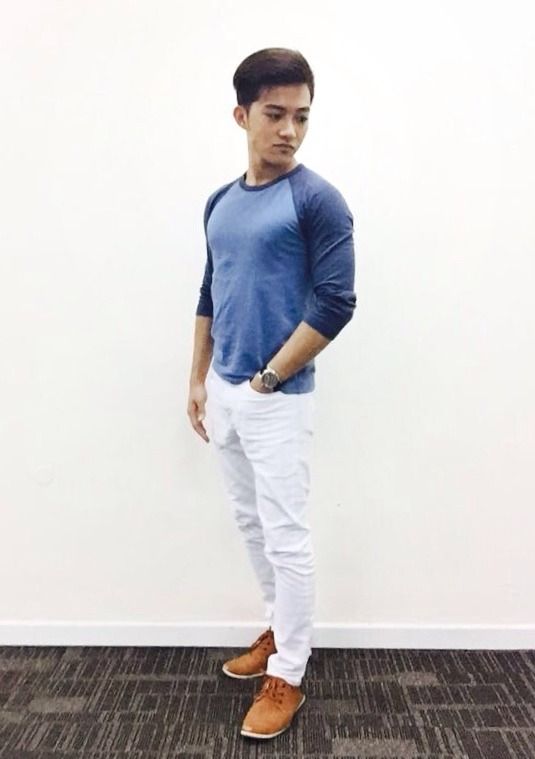 We came across Jay at The Core and were immediately fascinated by the way he carried himself; there was a level of grace and poise even as he dressed casually. He opted for a simple yet well fitted baseball tee in tones of blue which well complimented his skin tone. Pairing it with basic white pants added a kick to the outfit as he chose to move away from the every day blue jeans. The shoes were just the perfect compliment to the subtle colours he chose. Jay mentioned his inspiration being the quintessential choice for many, comfort.
Shirt from Uniqlo
Pants from H&M
Shoes from Zara
Watch from Alain Delon
Audrey Gracia | Malaysia | Foundation in Arts
Audrey wore the classic LBD (Little Black Dress), which is a necessity in every girl's closet, and matched it with a pair of nude flats. The LBD is a modern classic which can take you from morning to evening effortlessly and in style. A short sleeve form fitting flared dress was a perfect option for the blistering Malaysian weather. The camel coloured flats were a subtle addition to this outfit. We chose this look because it was simple yet it beautifully complimented Audrey. She has no doubt nailed the LBD look.
Dress from H&M
Shoes from Aldo
Watch from Zalora
And with that, we've come to the end of this week's StyleWatch. Whether it's formal or casual attire, we'll always be on the lookout, UNMC. So stay stylish and tune in for more in the coming weeks.
By Shaima Nizar.