Have you ever wondered what climbing outdoors (on natural rock) is like? The UNMC Rock Climbing Club had its annual outdoor climbing trip at Damai Wall, Batu Caves on 5th March 2016, Saturday. It was a sunny day with a short period of drizzle in the afternoon. Most of us arrived at around 10am and took turns to climb throughout the day until 5 pm as we only had three ropes. Our lead climbers arrived earlier to set up the routes for the rest of us to toprope the route.
Preparing the ropes for lead climbing
Lead climbing a route
We did some warm up routines and started climbing soon after we arrived. As usual, Damai Wall, Batu Caves was full of people during the weekend. They are those avid climbers who go there frequently, foreign climbers exploring the climbing routes in Malaysia, climbers' children, etc. The climbing routes at Damai Wall were challenging for some, but were seen to be less challenging for those experienced and advanced climbers. As for some of us who were there for the first time, it was a different and novel experience!
So what is it like to climb outdoors? Especially for those climbing outdoors for the first time? Well, everyone had different thoughts about the experience. One has to try one's own hand on it to actually know how it really feels like.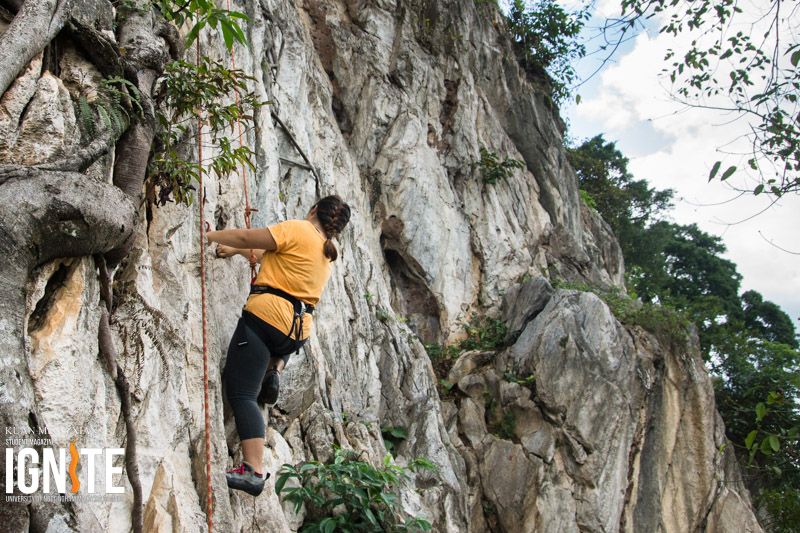 Tina Nguyen, a final year Finance, Accounting and Management student said, "This is very fun and different from the indoor climb, but for me, it is so scary. If climbing indoors, I will not scare to fall, but for the outdoor one, I'm so scared to fall and then scratch myself somewhere."
Ang Ming Lok, a 1st year Mechanical Engineering student said, "It is much easier than climbing indoors because there is no definite route unlike in the climbing gym where you need to follow the colours. Every hold you can find is an opportunity for you to climb."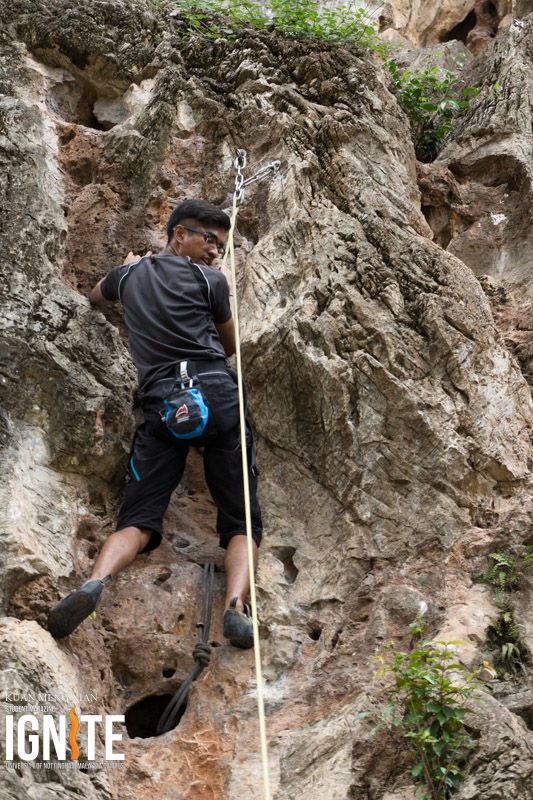 As for Shamsul Azrin Jamaluddin, a Psychology research assistant who has climbed outdoors once, the experience was more enjoyable: "It's really good. It's really a different challenge compared to climbing indoors because anything is a possibility for you to grab and put your foot on, so it gives a different feeling to it, definitely scarier and it feels more real so it's a good experience."
Matthew Batten, a MSc Finance and Investment exchange student from UNUK, on the other had, had plenty of experience with outdoor climbing in the UK. "Climbing in Malaysia is a lot hotter so you sweat a lot more here and apart from that it's pretty similar. I really enjoyed it when I first climbed outdoor. It is something I wish I'd got into earlier but I got into it quite late in university. I would definitely recommend anyone who want to try even if they only go for one session because it's just a fun experience."
By Cordelia Chew,
Secretary 2015-16
UNMC Rock Climbing Club
Editor's Note: If you are interested to trying out rock climbing, please fill in your details here to receive updates from the UNMC Rock Climbing Club.