IGNITE's CS SPOTLIGHT series aims to showcase all of UNMC's Clubs and Societies in comprehensive detail and vivid color. Any music lovers out there? This might be the CS for you:
In 2004, Music Society started off modestly as a community of like-minded music lovers and musicians. It survived its early years through the passion of committee to nurture musical talents and enrich campus life and slowly branding itself as it is today. Through passion for music and some luck, Music Society has managed to make its trademark through events like 'Spotlight' and 'Musical Talent Quest'. It was the actions of many dedicated individuals who solidified the foundations of Music Society and improved its sustainability. Even then, it is more than unfair for not mentioning that these individuals were supported by their committees, peers and friends. Without this support, these individuals would not have made a lasting impression for Music Society. However, without doubt; it is the quieter and more subtle deeds of Music Society's performers and members which fuels the passion that drives Music Society forward.
Music Society is made up of 5 unique departments that share the same goal, which is to enrich campus life through the passion for music: Orchestra, Choir, Events, Production and Studio. It doesn't matter if you're a brilliant musician or a casual player, the lead vocalist in high-school/college or a bathroom singer, whether you know every singer names, song titles and lyrics ever written by heart or just a handful of them. Here in Music Society a.k.a MUSSOC, we welcome each and every one of you who are enthusiastic about learning new skills, who want to be part of something and make a difference with your time here at UNMC!
In our society's Orchestra family, members are provided with various opportunities and platforms to demonstrate their instrumental talents while performing together as one orchestra team, embracing each other's weaknesses and strengths to work together and create wonderful performances. A flexible range of instruments is included in our orchestra, such as violins, cello, flute, clarinet and many more to accommodate the different genres of performances that we provide. Playing in an Orchestra is different from playing solo as intonation and synchronization between instruments are very important. It is music that bring us together, bond us together and made us a family.
The Choir Department of Music Society is a group of singing enthusiasts, usually singing in four parts (SATB), which is designed to create a vibrant and beautiful sounding song performance. Together we learn about various genres of songs, ranging from classical to pop, with keyboard accompaniment or in an A Capella (without accompaniment). Our members will not only be able to have the chance to perform in our society events, such as Spotlight, Choir and Chamber Music Orchestra Night (CCMO) and more, but they will also be provided the opportunity to be featured in many other events on campus or off campus as well! We do not label ourselves as professional singers, but instead we consider ourselves a singing family; a singing family that supports each other and together we share and learn, ultimately bringing a refreshing voice for the university!
Dedicated to our society's goal of enriching campus life through performing arts, our Events team strives on making every Music Society event a memorable and entertaining one! In Events, the team try out the most bizarre marketing strategies, create stunning promotional materials, and come up with the most unique ideas for our musical events! Being part of the Events team, you will be exposed to the know-hows of planning and executing events; from the utilization of Gantt Chart™ to learning the importance of target market, audience channels; which are just part of the basics of creating an effective marketing strategy.
The major events organized by Music Society includes Spotlight, Music Talent Quest (MTQ) and Choir and Chamber Music Orchestra (CCMO). Spotlight, usually held during the first semester, provides a platform for musicians on campus to showcase their talents to the student body. MTQ, on the other hand, is a more competitive event which encourages singers and musicians to take their talents to a whole new level in a more competitive field. And finally, CCMO is the peak event from Music Society which exercises full participation from all 5 departments with Choir and Orchestra being in the limelight.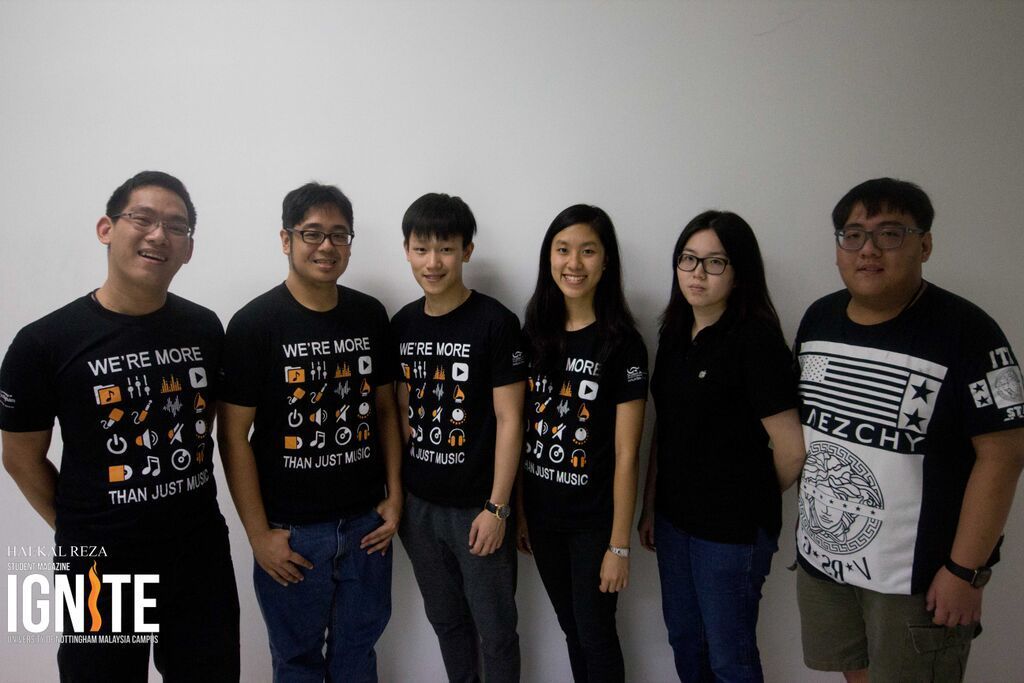 Last academic year, term 2014/15, Music Society organized Project X, UNMC's first ever water-balloon music festival right on the grounds of the campus and it is the first large-scale event held at the sports complex. Project X definitely took the society, committees, members and the participating student body to a whole new level of experience.
The Productions team of Music Society handles all the technical aspects of the society such as live sound support, lighting services and musical equipment. The experience Production team members obtain is truly invaluable, from live sound mixing to witnessing a backstage-view of some of the biggest events in UNMC. Most of the members start off without any prior knowledge in this field, and are slowly guided into mastering the art of mixing. All new crew members will undergo a series of training sessions to gain knowledge on the technical aspects of music and enhance skills on handling musical equipment. Production members are even entitled with the opportunity to handle an audio mixer (which controls the entire sound system of an event) and to participate in event live streaming (which won Music Society the Incredible Achievement Award of the Year 2014/15)!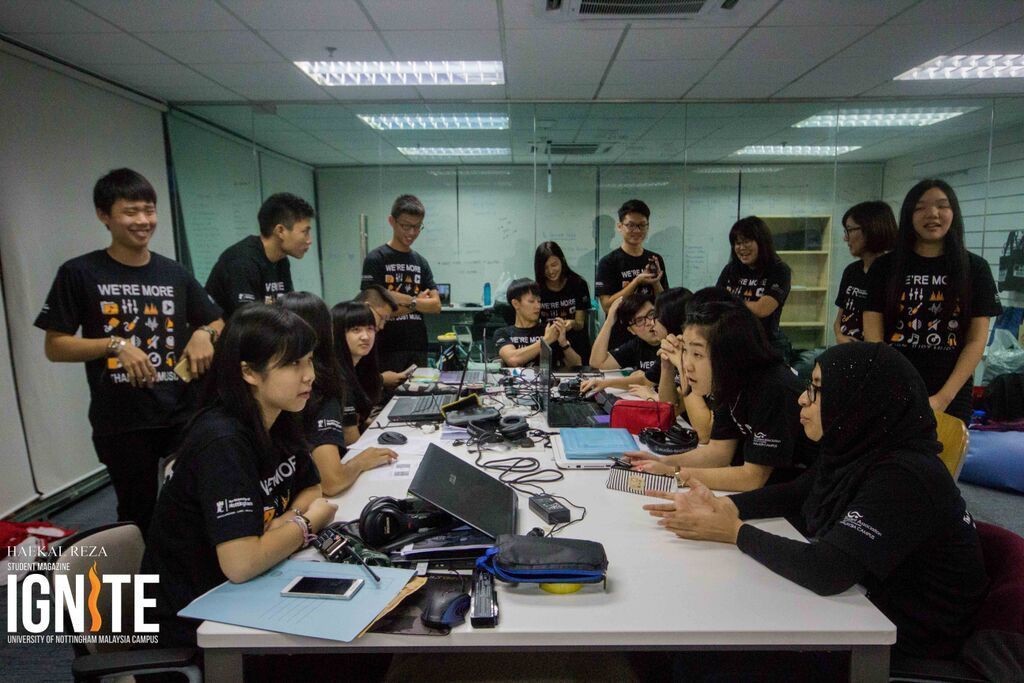 This year, 2015, the Studio Department is established and they are in charge of UNMC's first-ever Music Studio and jamming room, located in the Student Association building, next to the Dance Studio. Studio members (a.k.a Studio Marshalls) in this department will be handling jamming room sessions and be part of the studio management. Other than that, there will be an upgrade this term with the addition of a music recording service being provided in the Music Studio. Studio Marshalls are given an opportunity to contribute to the planning and early execution of this new service.
If you are interested in becoming our honorary member, you can fill in the pre-signup form online and pay the registration fee during CS Fair!
For more information regarding Music Society, please check out our Facebook Page or official website. You can also drop by our Music Studio and talk to any of our executives if you have any further questions or doubts to clarify.
By Leong Zhe Hao
2015-16 President,
UNMC Music Society