IGNITE's CS SPOTLIGHT series aims to showcase all of UNMC's Clubs and Societies in comprehensive detail and vivid color. Are you game for some ping pong?
 Table Tennis, Anyone?
Table tennis, also known as Ping-pong, is a very fun and enjoyable game. Now it is not only a game, but a sport – an Olympic sport. Like many other sports, Table Tennis began as a 'mild social diversion'. Most historians will agree that Table Tennis was first played in England towards the last quarter of the 19th century when, after dinner, some upper-middle class Victorians decided to turn their dining room tables into miniature versions of the traditional lawn tennis playing field. Around the beginning of the 18th century people began using celluloid balls to replace the traditional rubber and cork. The game became a huge fun event after the name "Ping Pong" (the noise made by the ball striking the table) became a patented trade name for table tennis. Around the early 1920s, the game was becoming very popular and in several parts of the world a movement started to revive table tennis as a serious sport. Over the next sixty years, table tennis developed into a major worldwide sport. Today it is said that roughly 30 thousand people play it competitively, and another million to 2 million play in household rooms and garages. Although it has become faster and harder to play, the game itself has not lost its aura as a "gentleman's" sport.
About UNMC Table Tennis Club (UNMCTTC)
UNMCTTC provides opportunities for enthusiastic players of all standards to practise and play competitive table tennis. It is also a fun way to make new friends as all members are able to interact with people from different backgrounds, both at training sessions and during social activities.
Our club offers FREE coaching sessions for its members on a weekly basis. The fun, structured training is led by experienced state players. There are other general sessions as well, including some exercises, fun games and matches. For new players or beginners who would love to improve their game, this is a golden opportunity to learn or enhance your fundamentals skills such as grip, stance, footwork, forehand drive, backhand drive, backhand push, forehand push, serve. These skills are crucial to master one of the fastest ball games in the world.
Training times and venues
| | | | |
| --- | --- | --- | --- |
| Day | Time | Location | Training type |
| Monday | 18:00-20:00 | Badminton Court | Squad session/Club session |
| Wednesday | 18:00-20:00 | Badminton Court | Club session |
Activities & Events
Various socials and activities appealing to all tastes will be arranged throughout the year, including friendly matches within our campus and with other universities, inter-faculty competitions, the Nottingham open tournament, MAPCU and social events with other clubs as well. For the very first time, UNMCTTC will be organising "Glow-in-the-dark table tennis" this year, so look-out for it!
Moments of Glory
Our club members have notable achievements in the recent years. For instance, last year we won 1st place in IMU Inter-Uni Table Tennis Competition and 3rd place in UNITEN Open in group. If you're an advanced player, feel free to join the squad and play for our team in the inter-university matches.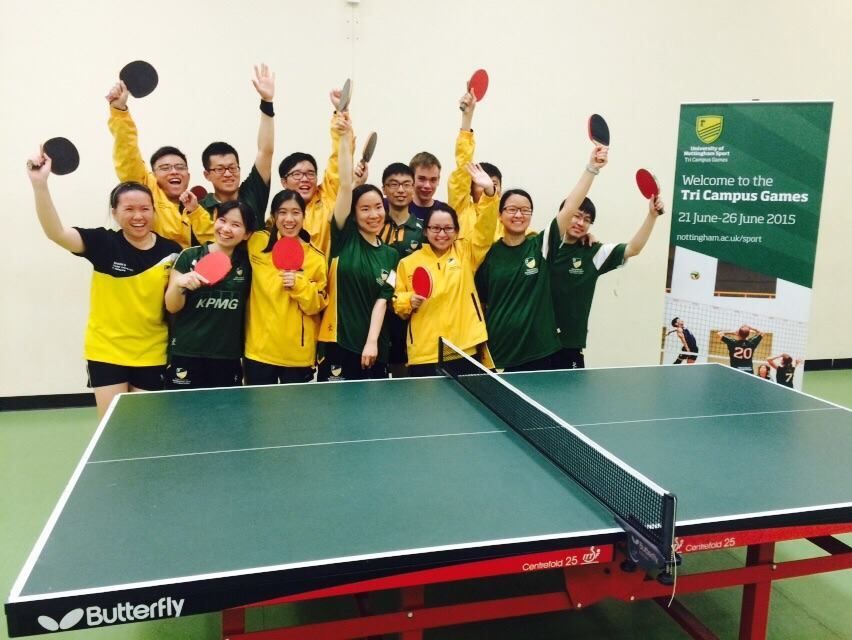 Why you should join us?
Health and fitness (improve your eyesight too!)
Gentle on your body (non-contact sport)
Lifelong sport (60-year-old veterans still can beat you!)
Keeps you mentally sharp
Can be played anytime and anywhere
Make new friends
Learn about the rules & regulations
FREE training provided for members!! 😀
The participation cost to sign up our Table Tennis Club is only RM20. Are you ready to join our fun and exciting table tennis club? We will set up a booth during the CS fair on 5th & 6th October 2015 (Mon & Tue), so keep an  eye out for us!
While we keep an eye on the ball
For any inquires, feel free to contact a member of the committee, who will be more than happy to help (contact either kecy2hjj@nottingham.edu.my (Crystal) or khay5mem@nottingham.edu.my (Michelle)). And don't forget to 'like' our Facebook page! All are welcome to join the Table Tennis Club (UNMCTTC)!
By the 2015-16 UNMC Table Tennis Club Committee
Interested students can also sign-up here.