Act V, Scene I: Hamlet and Yorick's Skull 
UNMC might seem like a place where theatre comes to die, but theatre buffs who enrolled here anyway shouldn't give up hope altogether. Dr Derek Irwin, Head of the School of English, has confirmed that there will be a designated theatre space in the new teaching building that's still being constructed. In the mean time, students have to make do with annual productions like last year's 'The Mikado', or with the occasional performance from an external acting troupe. Last Wednesday, the KL Shakespeare Players staged a 'Hamlet performance lecture' in the Great Hall, which turned out to be free-of-charge thanks to the generosity of the Provost and CEO Christine Ennew.
But what exactly is a performance lecture? The five actors – Anne, Soon Heng, Kien Lee, Sandee and David – decided to only enact selective scenes from the play, focusing mainly on Shakespeare's famous anti-hero (and side-lining the other characters). All five actors take turns at bringing the brooding, conflicted Prince of Denmark to life with minimal props, costumes and sound effects. The actors spoke directly to the audience from the very beginning, providing contextual knowledge on how Shakespeare's plays were received during the Elizabethan era. They continued to break the fourth wall by providing a brief summary and some character analysis between each enacted scene. The audience might have zoned out during Hamlet's two soliloquies, but were soon riveted to attention when he finally set his plans to avenge his father's death into action.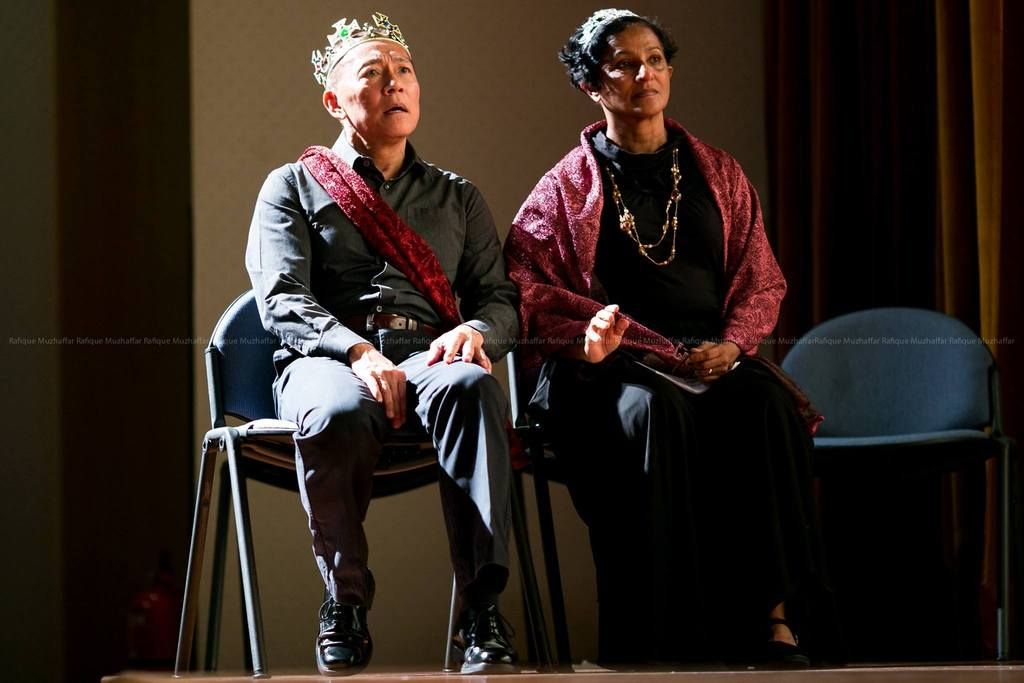 Claudius and Gertrude watch the play within the play
When the actors were asked about their performance format, actor David Lim explained that, "You mention Shakespeare, and their eyes glaze over". For students in the UK, learning Shakespeare is akin to a rite of passage. Even if they do not take English Literature as an A-Level subject, they would have studied a few of his plays by the time they sit for their 'O' Levels. In Malaysia, however, Shakespeare is largely seen as being too 'highbrow': inaccessible and incomprehensible to the general public, perhaps even 'elitist' (the typical use of BBC-esque English accents also adds to this effect). When employers keep lamenting about the poor English standards of Malaysian university graduates, getting the 'average Malaysian' (who is likely to speak English as a second language) to understand Shakespeare's meaning-laden iambic pentameters seems like a very tall order. But the KL Shakespeare Players are passionate enough about the beauty of Shakespeare's language and the universal dilemmas posed by his plots to attempt just that.
As actor Kien Lee noted, one has to take time to acquire a taste and understanding for Shakespeare. The 'true meaning' behind Shakespeare's lines continue to elude him, with each repeated encounter with the text generating new interpretations and meanings. This is probably why Shakespeare's plays continue to be staged around the world 400 years after his death, and why literary critics are still publishing new papers on his texts. Shakespeare's plays might not seem like the most democratic of texts, but actress Anne James points out that Shakespeare's plays attracted all cross-sections of English society during his lifetime, from royalty and aristocrats to the working class masses. Elizabethan theatre was staged in a stadium-like atmosphere, with up to 3,000 spectators jostling for a better view of the drama. The core, lofty theme of 'Hamlet' might be 'the impossibility of certainty', but there are also scenes of melodrama, dramatic violence, and vulgar comedy, all amidst a heavy usage of punning.
The performance lecture format certainly helps with acclimatizing a new generation of audiences to Shakespearian language and theatre conventions; everyone gets a breather between each meaning-laden soliloquy or interchange when the narrative is interrupted by some explanations and analysis in the kind of formal everyday English we are all accustomed to. But can Shakespeare really be 'demystified'? Literary critics like Harold Bloom, who famously credited the bard with 'the invention of the human', would disagree. Some people might decide that the amount of attention and effort needed to appreciate a Shakespeare text might not be 'worth it' (especially when there are many other more instantaneously gratifying options available), but others will return to his texts again and again throughout their lifetime, perpetually intrigued by the mystique of the Shakespearian canon and its intricate panoply of characters, plots and themes.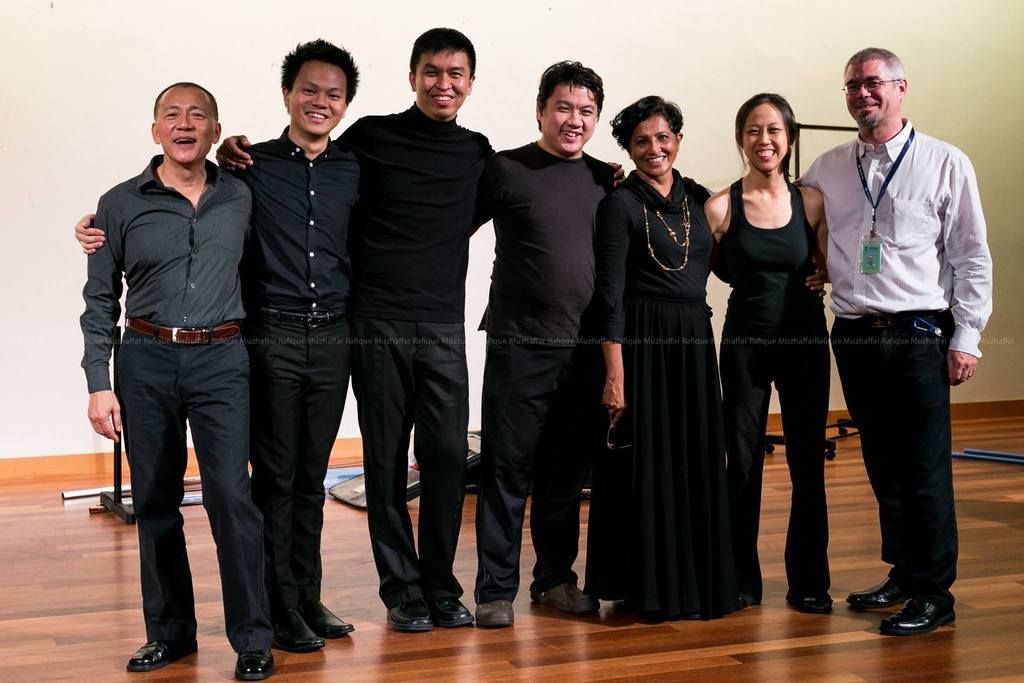 Left to right: Actors David H. Lim, Lim Soon Heng, Lim Kien Lee; director and musician Qahar Aqilah; actresses Anne James and Sandee Chew; Dr. Derek Irwin.
By Augustine Chay
Photography by Rafique Muzhaffar