UNMC  Music Society hosted one of the most amazing events of the academic year, Project X. It was a large scale on-campus event to celebrate the society's 10th anniversary.  The day began with sound check and other preparations as early as 10 a.m. The weather was as fine as Olaf's dreams of summer: it was scorching hot.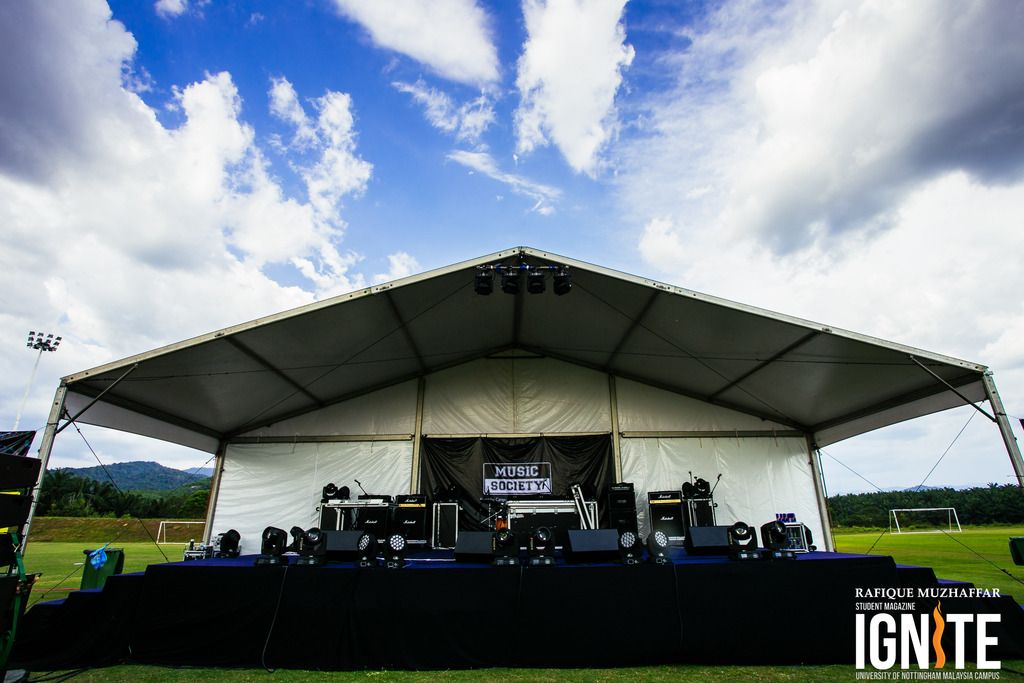 However, when it was time for the festival to begin, clear blue skies turned dark. The organisers were worried about a downpour but no fear! They were prepared. Big plastic bags were handed out to the audience as covering in case of rain.
At around 5.30 p.m., DangerDisko, the first act of an impressive line-up, started his set as the crowd trickled in.
The second act was a band created here in UNMC, known as The Colliders, who delivered a rockin' performance of Avril Lavigne's Sk8er Boi and Imagine Dragons' Radioactive.
Up next, was Son of A Policeman (SOAP). Judging from their name, you can expect them to be a fun-loving bunch. They performed 3 original songs (Colours of the skin, OH MARIA, Fire) and a cover of Swedish House Mafia's Don't You Worry Child. They kept the energy high throughout their set, even donning fake moustaches at one point. Their original songs had witty song writing and was very Malaysian, having many flavours in it. This fun set had the audience bopping their heads along to it.
At first look, Chomel looked like your stereotypical rocker, with the sides of her head shaved and a rat-tail. To my surprise, her set was not anything like that at all. Having only a guitar on stage, her voice was soft and sweet as she sang 3 Malay ballads (Andai Hati Aku Bersuara, Apakah Kerana Dia, Pelangi Petang).
I was nervous at first, but I got used to it. I was more relieved.- Chomel
Amrita, an up and coming singer in the local music scene, took the stage. Despite her shy demeanour, she charmed the crowd with her girlish, earnest, and fragile voice. Her songs (Clues, Dandelion Days, Midnight in Paris) could be described as acoustic folksy-pop, a bit of a mashup of old Taylor Swift (back when she still wrote schoolgirl love songs) and Echosmith's Bright.
It was fun, though slightly nerve-wrecking.-Amrita
Following that, it was one of the biggest performers of the evening, Bunkface. They got the crowd on their feet and started with Bunk Anthem. Next, they performed Prom Queen and Revolusi. They ended their set by covering Icona Pop's I Love It, getting the crowd to sing (or rather shout/scream) the lyrics along with them.
After Bunkface, there was a break for Maghrib. Concert-goers took to the chance to walk around and have some food from the variety of food stalls at the festival grounds. The Indonesians, a popular band at UNMC, consisting of UNMC alumnis, returned to perform at Project X. After the break, they took to the stage and put on a fiery performance.
[It was] really freaking awesome. -The Indonesians
With the crowd energised, Beatnation took the stage. The representative beatboxers delivered cool vibes throughout their set. They produced fast raps along with fast pulsating beats, including some trap beats.
It was dope. -Beatnation
By this time, the crowd was quite hyped up. Faded Lantern covered Fix You, which was calming after a blood-pumping performance by Beatnation. The crowd loved it and called for an encore, which they did by performing a cover of Use Somebody. It was a crowd favourite.
Up next was Hafiz Zainal. The young, soulful singer captured many hearts in the crowd. During his performance, ecstatic screams from the crowd could be heard. When he came down from the stage, many people rushed to the front, stretching out to touch his hand.
After that, it was The Asparagus Monkeys. With such an unusual name, came an even more unusual set. It was different from the other performances as it consisted only of one electric guitarist and one bassist. Thus far, we have had performances ranging from fast beats to mellow tunes. This set added the groove to the list.
[It] felt good. Exhilarating.- The Asparagus Monkeys
The last performance of the night was by Narmi. His style was of a simple songwriter, dressed just in a simple white tee and shorts, looking very down to earth. He serenaded the crowd with his smooth voice while plucking lightly on his guitar. He performed two of his original songs (Busy Bee, Cair) and then he did a mashup of 6 songs (Not a Bad Thing, Angel, Kau Ilhamku, I Choose You, Good Riddance, I'll Be There For You). The smooth transition from each song was amazing, a mark of an experienced performer. Following that, he performed his hit song Make Me Whirl, which sent many hearts in the crowd sighing. He finished his set by covering We Are Young, getting the crowd to sing along. It was a perfect way to end the night.
IGNITE asked the performers on their take on the whole event. The Colliders found it "energetic" and full of "excitement", the crowd was really "enthusiastic". Son of A Policeman described the event in three words: "sweat",  "tiring" but  "fun." Hafiz Zainal felt it was a "great party". Faded Lantern found the venue to be "bright" and "exciting", full of "nervous" energy, and Narmi felt it was "fun" and "awesome".
It was a great event with an abundance of talent. The line-up did not disappoint and I was 'wowed' through and through, especially by our own student performers. The festival ended with the much awaited water balloon fight. Needless to say, no one went home dry.
Olivia Yeoh
Images courtesy of IGNITE photographer, Rafique Muzhaffar