2 November, Monday: The Centre for the Study of Communications & Culture (CSCC) organized a talk with Malaysian social activist Fadiah Nadwa Fikri, focusing on the treatment and depiction of refugees and foreign workers in Malaysia. This event was a part of the Media & Conflict module that some third year PHIR and ICS students are enrolled in.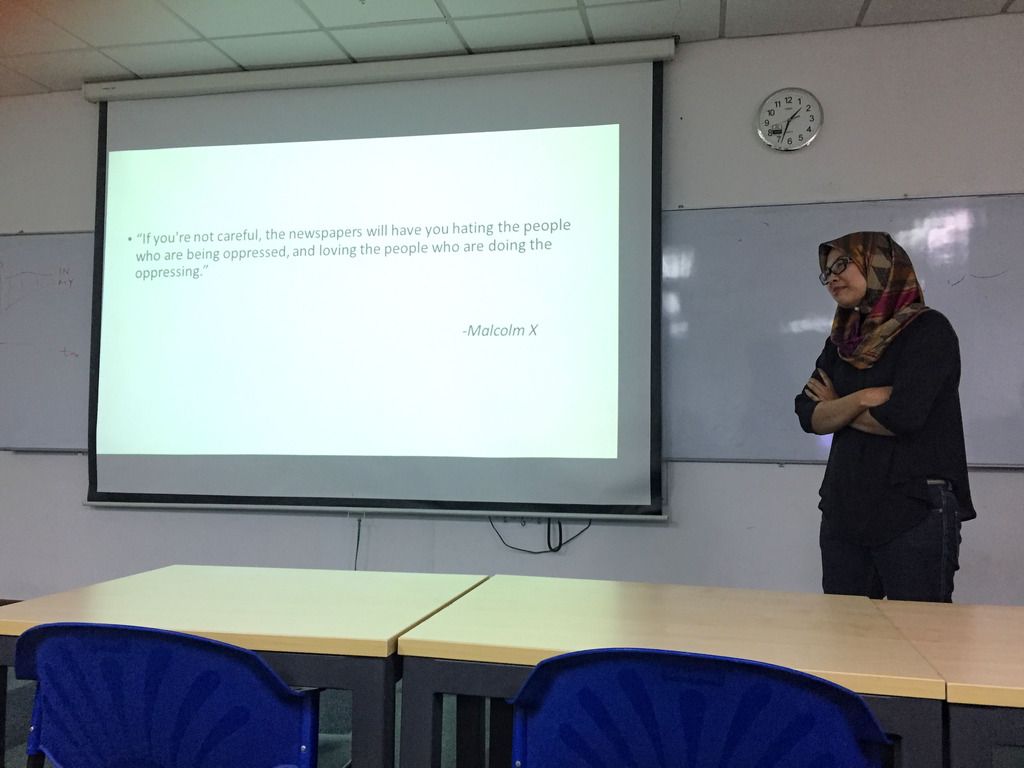 Hailing from Kedah, Fadiah graduated from the International Islamic University in Malaysia (IIUM) in 2006, with a degree in law. She has been practicing law for eight years, besides working as a Protection Associate at UNHCR, and for various NGOs such as the Bar Council Human Rights Committee, the Bar Council Legal Aid Centre (Kuala Lumpur), SUARAM and GMI (Abolish ISA Movement). She is currently pursuing her Masters in International Relations and Human Rights Law at Oxford University.
Fadiah was introduced to the students who attended the talk by SMLC Professor Zaharom Nain as an activist who has been involved in the organizing committee for various Bersih rallies, and as someone who has been imprisoned for her activism.
She began her talk by sharing a quotation from African-American novelist Toni Morrison's 1993 Nobel Prize speech:
Oppressive language does more than represent violence; it is violence; does more than represent the limits of knowledge; it limits knowledge.
She argued that 'oppressive language' is often used when depicting foreign workers and refugees in the media (whether Malaysian or otherwise), with these groups often used as a scapegoat to direct attention and anger away from other more pressing issues like social and economic justice. Citing an example of a viral video of a Bangladeshi car-wash worker being verbally and physically abused by a Malaysian man as an example, she argued that the dehumanization and 'othering' of foreign workers is a commonplace aspect of Malaysian culture, with the video being just one example of how the dignity of human beings is being compromised simply because of their non-local origins and lack of 'proper documentation'. She noted that the media often perpetuates and aggravates such antagonistic reactions by portraying foreign workers as 'job-stealers, criminals, illegal immigrants and a threat to national security', thus ensuring an enduring legacy of exclusion.
Fadiah then moved on to note that women, religious minorities, the LGBT community and the indigenous communities in Malaysia are also often stereotyped and 'othered' by the media. The LGBT community is typically presented as being deviant and inferior, women are presented as being angry, emotional, irrational, or 'always being on their periods', while the indigenous community is presented as being 'backward' or 'uncivilized'.
After inviting members of the audience to share their own experiences of being 'othered' by the language used by the media, she ended the talk noting the aspirations and ideals of the human rights movement "to make the world a better place" (while acknowledging the various complications and difficulties in realising its lofty goals) and by sharing a quote by Caribbean-American poet Audre Lorde:
It is not our differences that divide us. It is our inability to recognize, accept, and celebrate those differences.
The students then engaged Fadiah in a lengthy and somewhat inconclusive discussion about the role of militarism and/or civil violence in the context of international interventions in human rights crises. She only agreed on war as a form of self-defense, and disagreed on the use of military violence on the pretext of 'rooting out extremism'.
By Augustine Chay