For the first time in UNMC's history, six high-profile speakers gathered last Saturday (30th January 2016, 10am – 4pm) at the Great Hall to speak on gender equality and leadership. The conference was organised by the students participating in the Gender and Leadership module under the Nottingham Advantage Award (NAA) programme.
In her welcoming speech – titled 'Breaking the Glass Ceiling' – UNMC Provost Professor Dr Christine Ennew noted that the representation of women in gender and leadership equality is a universal challenge. She used the trend of women's engagement with societal issues as an example, and pointed out how female involvement has improved since the times of Maria Goeppert-Mayer, who won the Nobel Prize in 1963 for her work in theoretical physics. At that time, a female laureate emerged every 16 years.
We may have made progress since Maria; we still have a long way to go.
She argued that the ability of women to lead has "less to do with who they are but more about what they do". During the Q&A session, when asked about what advice she would give to someone taking a leadership position for the first time, Professor Ennew said that one should "listen even if we do not agree". Her second piece of advice was a quote by Kurt Vonnegut, who quipped "Hello babies. Welcome to Earth. You've got a hundred years here – damn it, be kind" when asked to give advice about living to babies.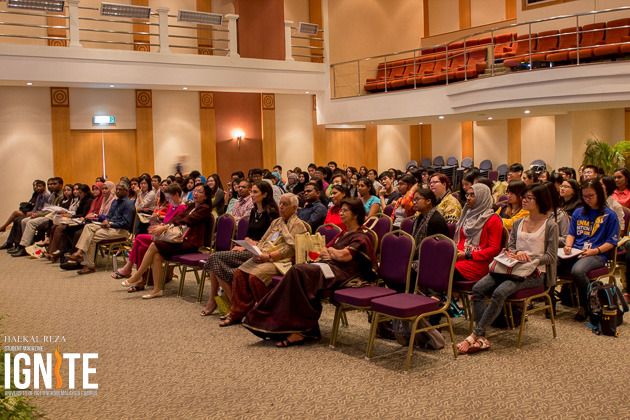 UNMC also hosted Her Excellency Vicki Treadell, the British High Commissioner of Malaysia. Ms. Treadell shared the challenges she faced in her career as a woman in international relations and politics, as well as her views on achieving gender equality in the workplace. Her Excellency's first point was about how the whole agenda of gender equality "starts from home", and how each child should be nurtured to recognise and practice equality.
She then motivated the crowd by stating that everyone had "the power to make decisions for [them]selves". When told that we can't do something, Her Excellency urged us to "think very carefully about what we want in life".
Each and every one of you has the power; the power to have dreams, the power to believe in yourself, the power to believe in endless possibilities, to believe that you can have ambition.
Ms. Treadell then shared her 5Cs for successful leadership: confidence, conviction, courage, compassion and collaboration.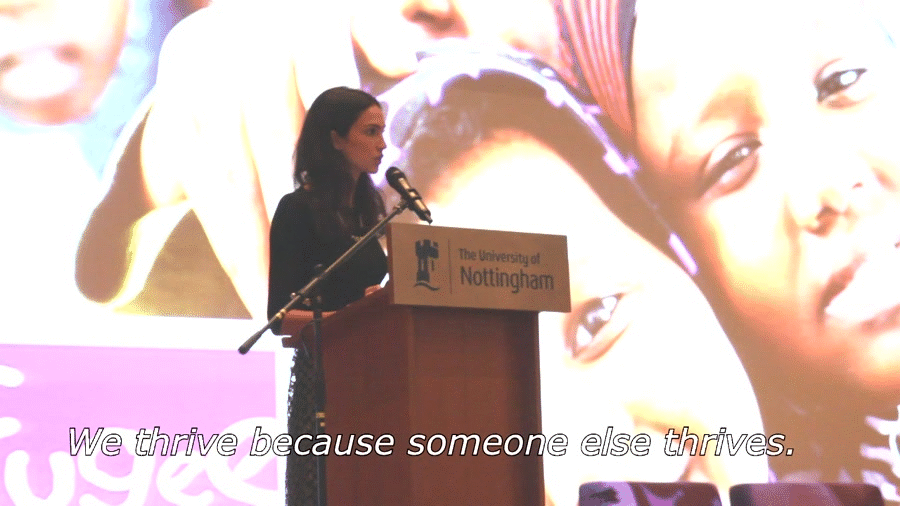 The final speaker for the first session of the programme was former Miss World Malaysia and co-founder of Fugee School, Miss Deborah Henry. Her speech – 'Breaking the Mould' – covered the societal expectations faced by a beauty queen, and her experience of running a school for refugees. She started off her speech by sharing a few life lessons she had learned while growing up in a family that did not restrict or limit its children, and humbly confessed that she had been initially ignorant of socially-imposed gender stereotypes.
Upon entering the world of fashion modelling at 15, Ms. Henry realized that the industry "forces you to grow up very fast to become an adult". She quickly learnt about the the sexualisation and objectification of women, and what it meant to be deemed attractive. Her family values and principles nevertheless kept her grounded on what she should and should not do. She ended her speech by sharing her experience of teaching tuition lessons to four Somalian children back in her university days, which eventually led to her co-founding a school for refugees.
After a delicious lunch buffet, Mr Ravin Singh shed some light on the legal aspects of gender issues. His 'Are We All Equal under the Law?' talk examined how gender issues were legally defined, e.g. how Malaysian law specifically defined the period of maternal leave, while omitting the idea of paternal leave (despite the fact that contemporary fathers play a more active role in household matters). He humorously noted that he is "anxiously waiting for Malaysia's first female Prime Minister", and shared his own experience as a lawyer. Having handled domestic court cases including rape and domestic abuse, he argued that "though the law is there, the application is not".
In his 'Equality or Equilibrium' speech, Mr Gregory Dicom, a lawyer and a full time working single parent to his two teenage sons, had the crowd cheering and laughing at his quote:
God created man before woman, because you always make a draft before the final masterpiece.
He went on to challenge the ideology that "equality does not exist", arguing that we are all actually striving to achieve equilibrium. Mr Gregory emphasized that despite the differences and lack in equilibrium, ultimately it is respect that keeps the peace among us. He also shared similar views with Her Excellency Vicky Treadell, noting that family plays a very important role in curbing gender discrimination and nurturing good leadership.
The last speaker that afternoon was YB Teresa Kok, the Member of Parliament for the Federal Territory constituency of Seputeh. Ms. Kok presented a speech titled 'Diversifying Politics'. She shared her many challenges as a single, unmarried, female politician in our country, and how she overcame those challenges. She noted that it was "consistency and integrity" that ultimately kept her sane and steady throughout her many testing and trying ordeals in the Malaysian political scene. Even when the world throws false accusations at you, YB Teresa believed that believing in your innocence allowed you to maintain that faith and soldier on in the face of harsh criticism and judgment.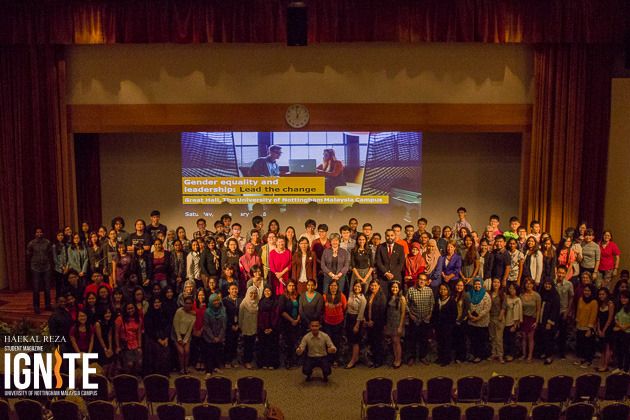 During the hi-tea buffet served at the end of the conference, the students had the opportunity to engage the speakers in private discussions – some students were even able to get information on internship opportunities or volunteering programs with YB Teresa Kok and Miss Deborah Henry for the upcoming summer break.
By Deeviya Francis Xavier