[Please note that this article contains spoilers to the Korean drama series, Descendants of the Sun.]
Are you crazy about the recent hit Korean TV drama Descendants of the Sun? Have you fallen in love with the romantic scenes? Do you fancy visiting the picturesque places where the gripping love story happened? (Or do you believe it all happened in the fictional nation of Uruk which is impossible for you to travel to?) Fear not, this article will provide you with information about the potentially real scenic spots from the drama and you may start preparing for a memorable trip before those spots are crowded with fans of the TV drama. There are two possible set locations where this TV drama was filmed, namely Greece and Korea.
The drama in a nutshell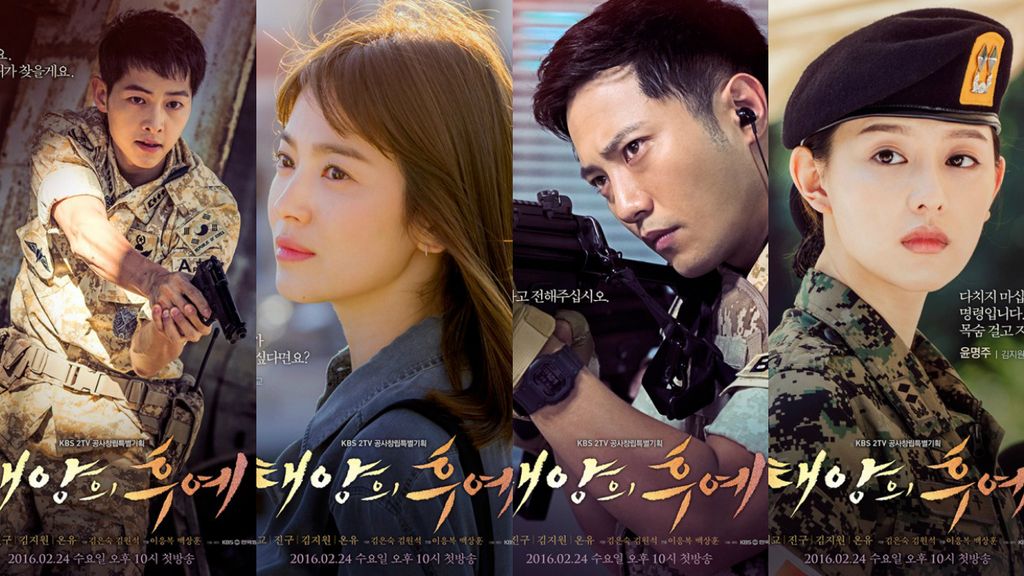 In case you haven't watched the drama, allow me to introduce you to the world of Descendants of the Sun. The tale is of a captain in the Korean special forces, Yoo Shi-Jin (played by Song Joong-Ki), who met and fell in love with a surgeon, Kang Mo-Yeon (played by Song Hye-Kyo). There was also another romance between a Sergeant Major, Seo Dae-Young (played by Jin Goo), who was the best friend of Yoo Shi-Jin, and an army doctor, Yoon Myeong-Joo (played by Kim Ji-Won).
Does not sound like anything new, does it? Well, think again. The script was written by a famous Korean drama series writer, Kim Eun-Sook (with co-writer Kim Won-Suk), who is never content with unoriginal storylines. Instead, she loves bringing fresh twists to classic narratives. Her latest work, Descendants of the Sun is no exception.
The soundtracks of the drama series, such as Davichi's 'This Love', Yoon Mi Rae's 'Always' and JYJ XIA's 'How can I love you', are so impressive, that you will not be able to stop listening to them over and over and they may become your all-time favourites. This 16-episode drama series has been well-received by the audience and many viewers are convinced that the on-screen couples are meant for each other.
Greece
Walk into the scene in Navagio Bay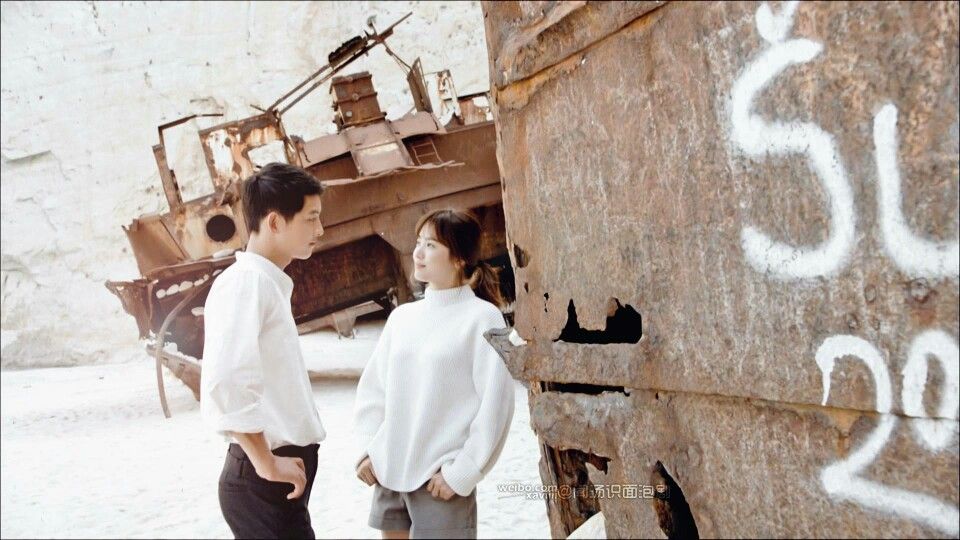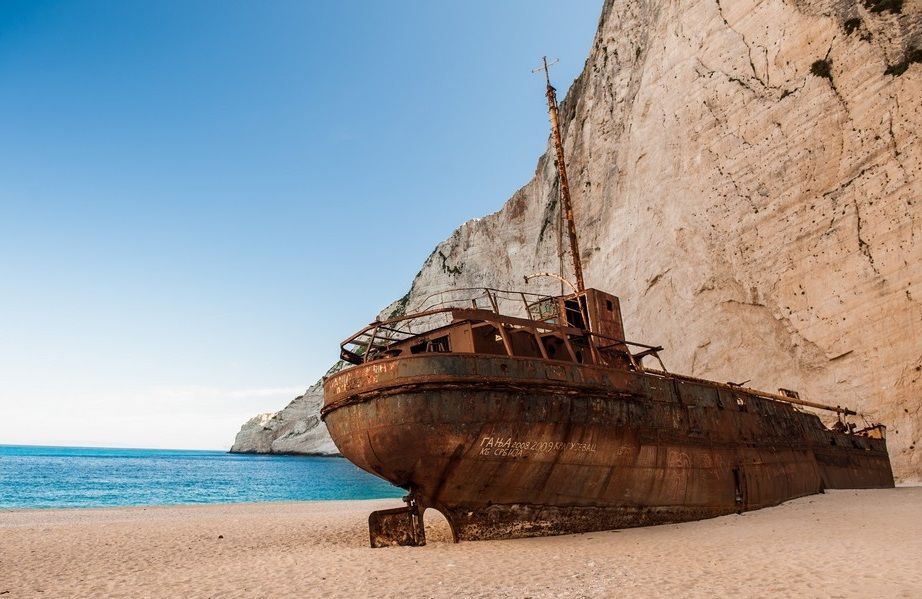 You may remember the dreamlike island where the "Song-Song" couple had their date during their budding romance in Episode 3. Although the relationship is fictional, the verdant island truly exists. The island is called Zakynthos, which is one of the Ionian Islands in Greece. The attractive beach where the scene took place is Navagio Bay, the most famous landmark of Zakynthos Island. It is on this beach that the couple was filmed walking on golden, silky sand, enjoying the surrounding clear turquoise water. Later on they picked up a smooth white pebble as a souvenir, which they believed would bring them back there again. Navagio Bay is famous for shipwrecked vessels from the 1980s, which are still present on the beach till today and was also featured in Episode 3. The "Song-Song" couple finally did come back to the beautiful island in Episode 16, not only to restore the meaningful pebble back to its home but also to enjoy their romantic outing and brought the drama to a heart-warming ending.
Other fun activities in Navagio Bay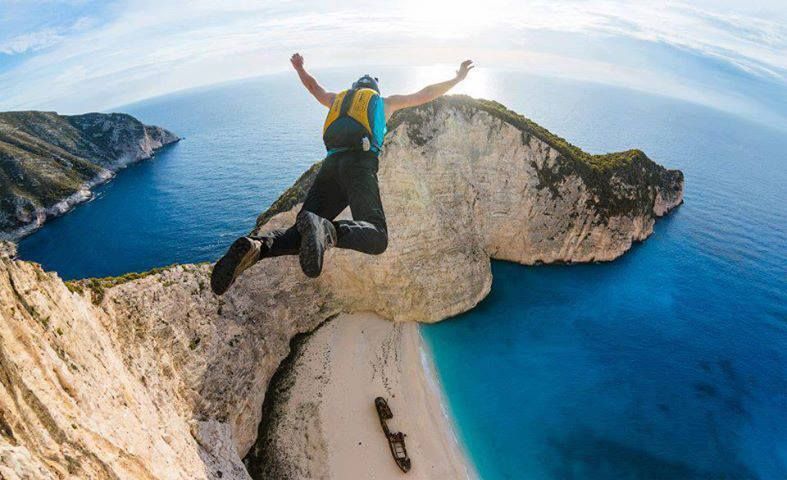 There are many memorable moments that the TV drama and its stars brought us, but there are also other exciting entertainments that you wouldn't want to miss out on while at Navagio Bay. For example, BASE jumping. BASE jumping is an extreme sport where jumpers parachute from a fixed construction or bluff from a certain height. The term, BASE stands for the four categories of the jump: buildings, antennas, spans and earth. People who have managed to jump from each of the four categories at least once will be awarded. Every year, this unique and exotic landscape has attracted many BASE jumpers from all over the world. If this is not your idea of an interesting experience because it is too terrifying, you can still admire what this miraculous island has to offer. You will find adorable marine animals at the beach, such as moray eels, octopus, loggerhead turtles and monk seals. This has attracted scuba divers around the world.
Travel to/ around the island
It may take a whole day to travel to Greece from Malaysia and it is probably necessary for a flight transfer via another country but it will definitely be a worthy and memorable trip, particularly for people who lead stressful lives as it will be a soul-healing vacation. It is convenient that the island has its own airport, which is the Zakynthos International Airport and it is located close to the town of Kalamaki.
In this town, there are various restaurants and hotels providing food, accommodations and day tours to the sea with activities such as diving, swimming and BASE jumping. Since Navagio beach is only reachable by small boats, a friendly day tour guide who can drive a boat and bring you around the bay is essential. Normally, a day trip to the sea will cost 15 European dollars per person, including transportation within the island to any location you may want to visit. Other activities, however, are excluded from the fee of the trip.
If you want to know more about the costs of activities mentioned above, you can visit this website for more up-to-date information since the costs vary with the seasons.
Korea
Walk into the scene in Dal.Komm Coffee shop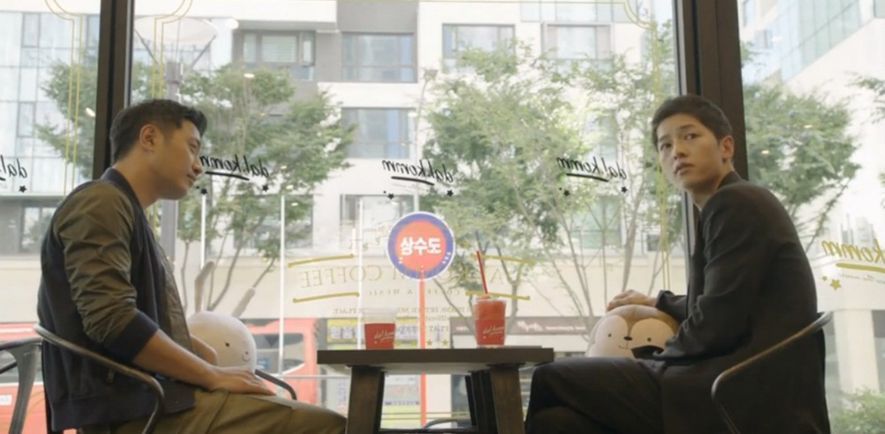 Another filming location which you will find impressive is Dal.Komm Coffee shop. The coffee shop has outlets in many locations. The one in Gyeonggi province is where the whole story started. You may remember the scene in Episode 1 where Song Joong-Ki and Jin Goo sat down while facing each other with two cute toys in a coffee shop before they met their destined lovers in the hospital. Besides that, I would also like to introduce you to another branch outlet of Dal. Komm Coffee, where the break-up scene in Episode 2 was filmed.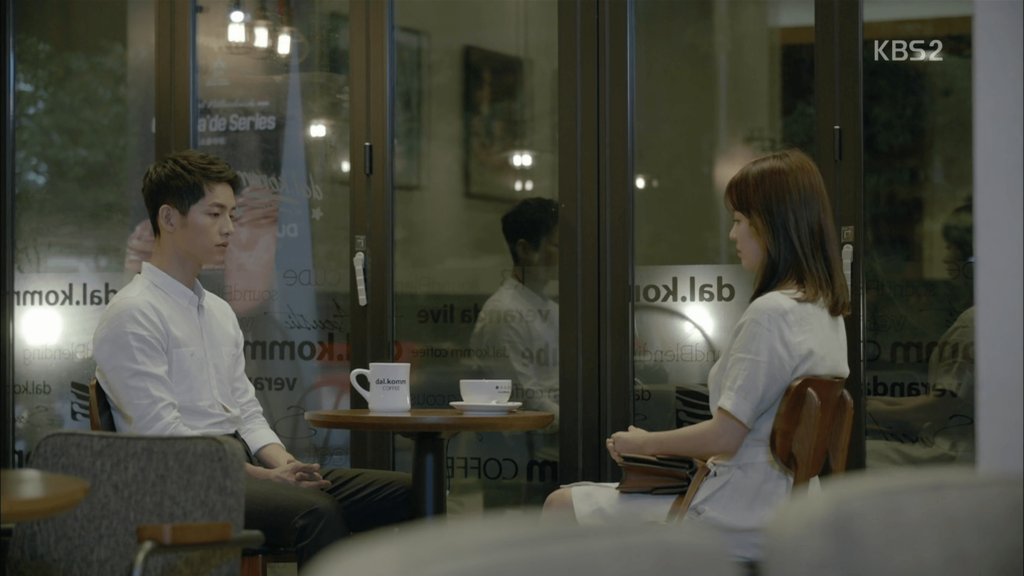 In this scene, the couple decided to end their brief relationship due to different beliefs which was probably caused by their occupations: one was a captain of the special forces, who believed that killing was sometimes essential for protecting more lives and the other was a doctor,who believed that saving lives transcends everything else and that every life should be saved. However, after experiencing hardships together, they were more understanding towards each other and came to an agreement that their common goal was to help people who need it.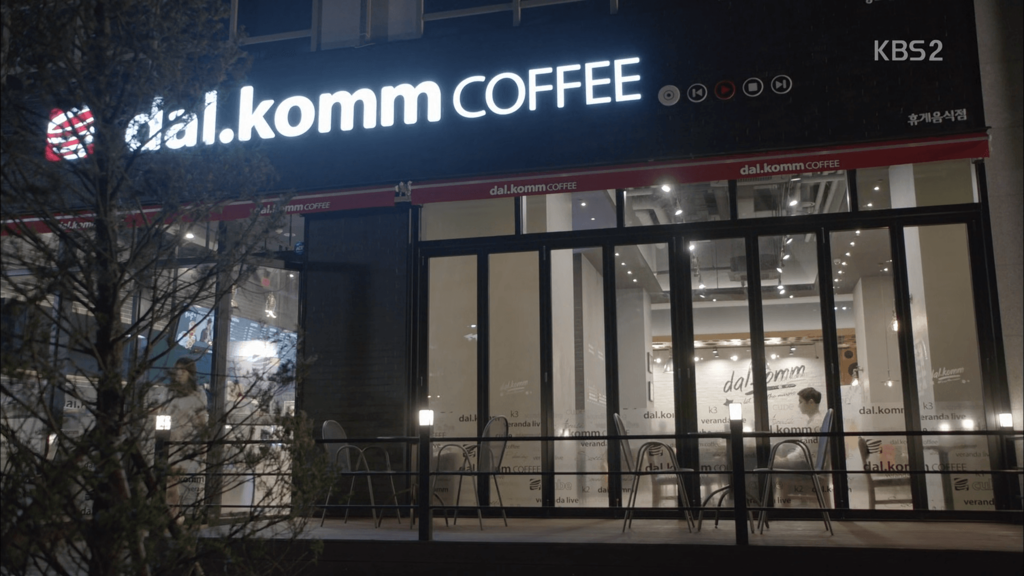 This coffee shop is located at Incheon Songdo Central Park, Incheon Province, Korea. It is a rising tourist hotspot after the filming of Descendants of the Sun, attracting both local and foreign drama fans. It provides not only the best coffee but also the best café environment. By browsing through its official website, you will know more about its "premium blend coffee with silky, smooth taste and aroma" made with the best coffee beans in the world – Arabica coffee beans.
The unique coffee here offers the perfect experience for both "coffee neonates", who are novice coffee drinkers and coffee connoisseurs, who are enthusiastic about checking out various coffees all around the world. The café mainly provides three flavours of coffee with various tastes: mild ("well balanced and sweet"), rich ("creamy and citrus") and deep ("flowery and fruity with a strong lingering aftertaste").
Other than the exclusive coffee, the café also creates a genial and enjoyable environment for its customers. When you walk into the café, you will be able to indulge in a modern and artistic atmosphere with wonderful gallery frames and fashionable decorations. The stylish sofas with comfortable cushions have won the hearts of its customers as they can lie on the cushions while enjoying their coffee and desserts. The nearest subway station is Incheon National University Station and Exit 4 will lead you right to the café. The operating hour is from 8am to 11pm.
Interestingly, Song Joong-Ki's best friend, Lee Kwangsoo is the current ambassador for Dal.Komm Coffee and he also played a role in Episode 1. The café has also attracted numerous Korean TV show fans ever since it was introduced in Running Man Episode 150531 before the broadcast of Descendants of the Sun. It was at the Gwanghwanmun outlet of  this café the seven cast members had their introductory session in the beginning of the TV show, with various desserts placed in front of them. Since the café was featured in both the hit drama series and the popular variety show, many posters have their backdrops set in front of the café for tourists and fans to easily recognize the place.
Other fun activities near the café
Scenes from the 2014 Korean TV drama, It's Okay, That's Love (starring Jo In-sung, Gong Hyo-jin and Lee Kwang-soo) were also filmed here, at Incheon Songdo Central Park. If you are also a fan of the Korean TV show, The Return of Superman, you will be all the more familiar with this park. It is the park where the Song triplet, Dae-han, Min-guk and Man-se and their father, Song II-gook, spent some fun times together. As a result, the park has become a popular tourist site for K-wave fans. Therefore, before you visit the café, you should take a stroll around the beautiful park. There are many entertainments there, for instance, you can rent a boat or a canoe to sail on the lake, or you can rent a bike. You can even visit the home of a small herd of deer (you will have already seen all these activities if you are a fan of the Song triplets).
TERO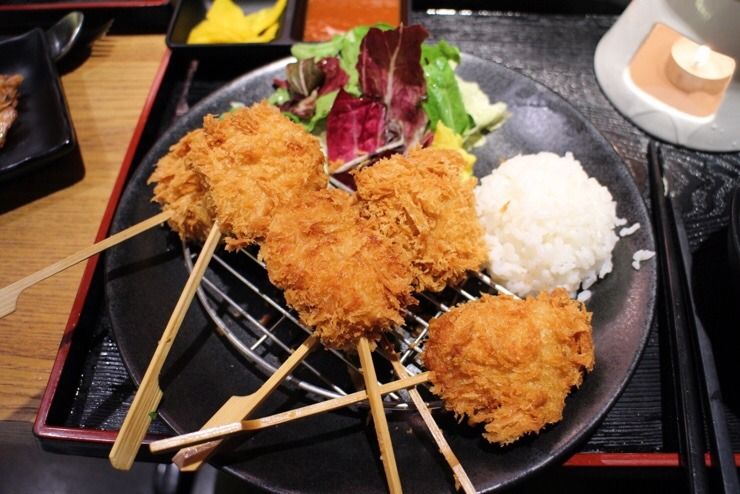 You can also visit the restaurant, TERO, which is where the Song triplets enjoyed their meal of Tonkatsu cheese fondue (breaded, deep-fried pork cutlets with a small pot of cheese), and transform your trip into a memorable food adventure. The restaurant also has other delicious food that you should try, such as Naengmyeon (cold buckwheat noodles in different broths, topped with slivers of various vegetables) and Gimbap (meat, vegetables and rice rolled and wrapped in seaweed). The prices range from RM17 to about RM34 and the menu constantly changes according to the seasons, however the quality remains unchanged. In short, you are likely to have much fun at Incheon with all the interesting tourist spots, entertainments and delicious food.
By Wang Bilin
Image sources: asianwiki.com, soompi.com, doggi.com, yaplakal.com, duitang.com, tripadvisor.com.my, kenvenyou.com