Sudan and Malaysia claimed respective victories in the men's and women's road relay which was held in the morning of the 14th of November. The race, which flagged off at the Amphitheatre at about 8.45 a.m, had 8 teams participating in the men's category and 4 in the women's category.
Men's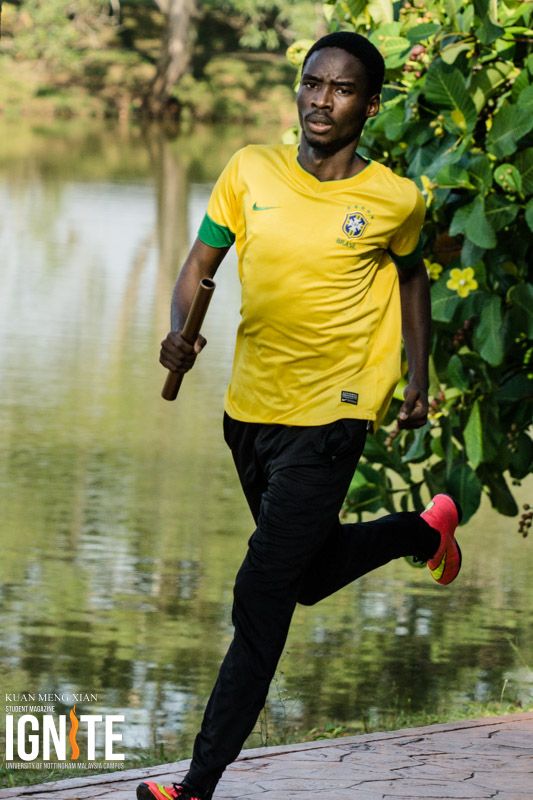 The teams participating in the men's category were Bangladesh, Egypt, India, Malaysia, Nigeria, Pakistan, Sri Lanka and Sudan. It was a close fight in the beginning legs of the race, with the fastest runners merely feet away from each other. Sudan, who were captained by Yassin Abdelaziz, had managed to take the lead right from the start, and finished the race with a winning time of 10 minutes and 57 seconds. Nigeria came in second at 11 minutes and 6 seconds while Egypt where third, finishing after 11 minutes and 38 seconds.
The Sudan team, although visibly exhausted, were in high spirits after the race. They agreed that victory felt great – golden, according to one of the runners. Most of the runners were from the football team as well, and they claimed that they had gotten a lot of practice through the football training.
Full Results:
Gold: Sudan 10:57 mins
Silver: Nigeria 11:06 mins
Bronze: Egypt 11:38 mins
4th Malaysia 12:03 mins
5th India 13:07 mins
6th Pakistan 13:22 mins
7th Sri Lanka 13:52 mins
8th Bangladesh 15:49 mins
Women's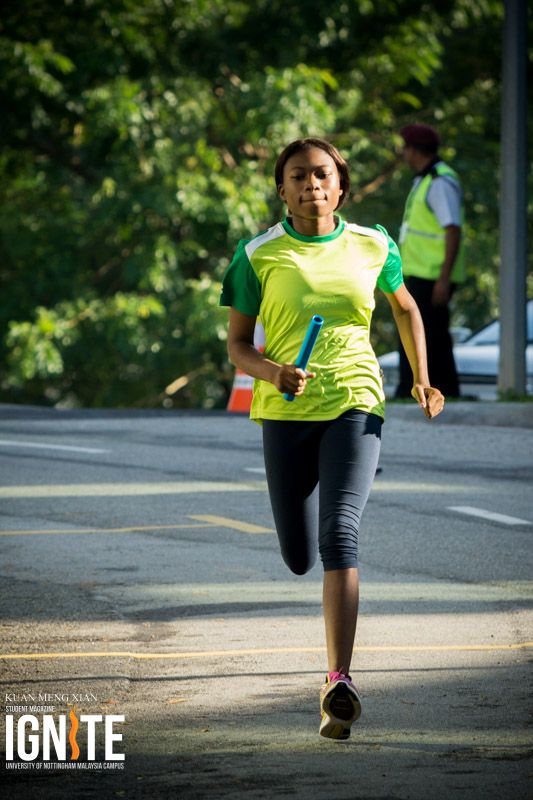 The women's category, which flagged off before the men's saw teams from India, Malaysia, Nigeria and Pakistan participate. Malaysia and Nigeria pulled ahead from the beginning, leaving the other runners behind. At the second leg of the race, Malaysia extended their lead over Nigeria to more than 10 seconds. From then on, there could only one outcome for the race as Malaysia blitzed to the finish line at a time of 14 minutes and 31 seconds, winning by a large margin.
"I feel excited, and surprised, because I did not expect to win!" exclaimed Tee Xui Mun, who had crossed the finish line for Malaysia, compensating for the men's team who missed out on a podium finish by coming in fourth.
Nigeria claimed the silver medal with a time of 16 minutes and 42 seconds whereas Pakistan rounded up the top three, clocking in at 18 minutes and 4 seconds.
Full Results:
Gold: Malaysia 14:31 mins
Silver: Nigeria 16:42 mins
Bronze: Pakistan 18:04 mins
4th India 18:34 mins
By Saran Anandan