The air was fresh and clean when the students of UNMC arrived in Singapore for their 3D2N trip. No sign of haze, no mask-covered faces. Instead, lively Indian songs and the smell of curry spice greeted them as they walked down the lane of Little India. Organised by the newly-established Nottingham Travels club, 'Escapade to Singapore' was a successful event that brought a small, intimate number of students from various backgrounds together in a weekend of sight-seeing around the island down south.
Staying in a cozy hostel called The Inncrowd Backpackers Hostel, which is situated in Little India, got some of the students excited as this was their first time lodging in a dormitory-based accommodation. The dorms were assigned according to gender. A simple breakfast of toast, hard-boiled egg, fruit jam and free flow coffee and tea were also provided by the hostel every day. Since the hostel is relatively small, strangers can sit together at the same table and socialize. Anum Anjum, a travel enthusiast from Pakistan, described that the Escapade to Singapore was memorable as
…going to a different place with your friends is always fun, but going to a different place and making new friends is an added bonus. This trip did not only allow us explore Singapore and have a good time, but it also provided us the opportunity to make new friends and memories.
Dariya Shamshidenova capturing the bright colours in Little India.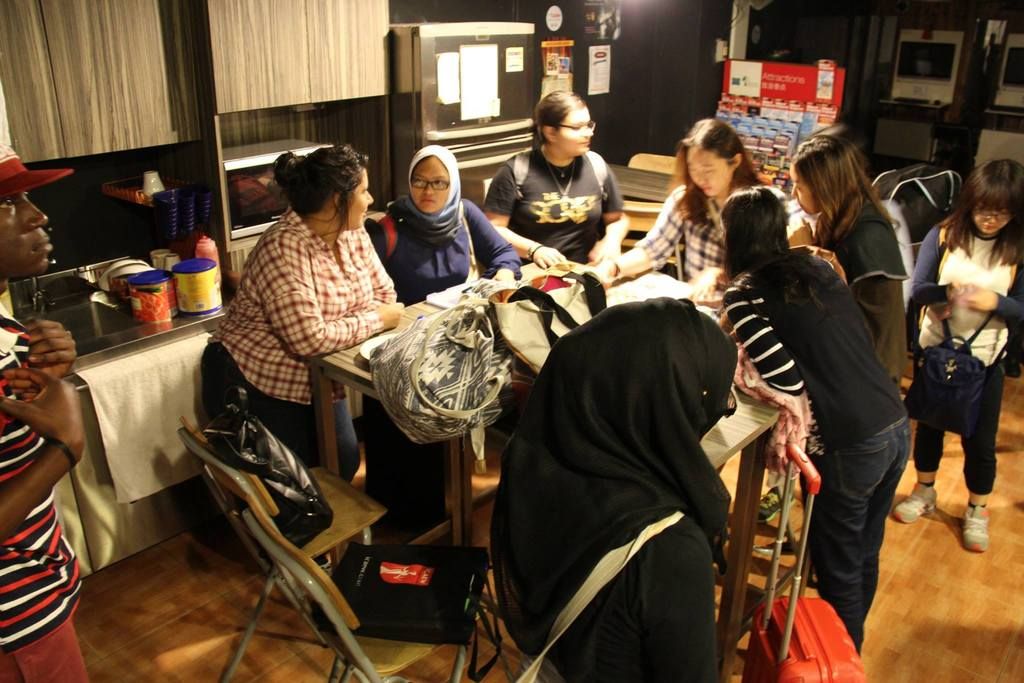 Students relaxing in The Inncrowd Backpackers Hostel's lobby-cum-dining room.
The theme of this trip was City Tour, where it involved visiting a lot of man-made tourist places such as Little India, Bugis Village, Gardens by The Bay, Marina Bay Sands, and Merlion Park. Each student was given a card called EZ-Link. The public transportation such as MRT, buses and taxis were fully utilized by them to get around.Nurazlin Khalit, a Malaysian student said,
We did a diverse range of activities. They are a bunch of fun people to travel with and the executives are great. But the downside is that there were a lot of walking; walking everywhere.
The highlight of Day 1 was when the students got to witness the extraordinary 'Light and Water Show' at Marina Bay Sands and the 'Garden Rhapsody' show at Gardens by the Bay.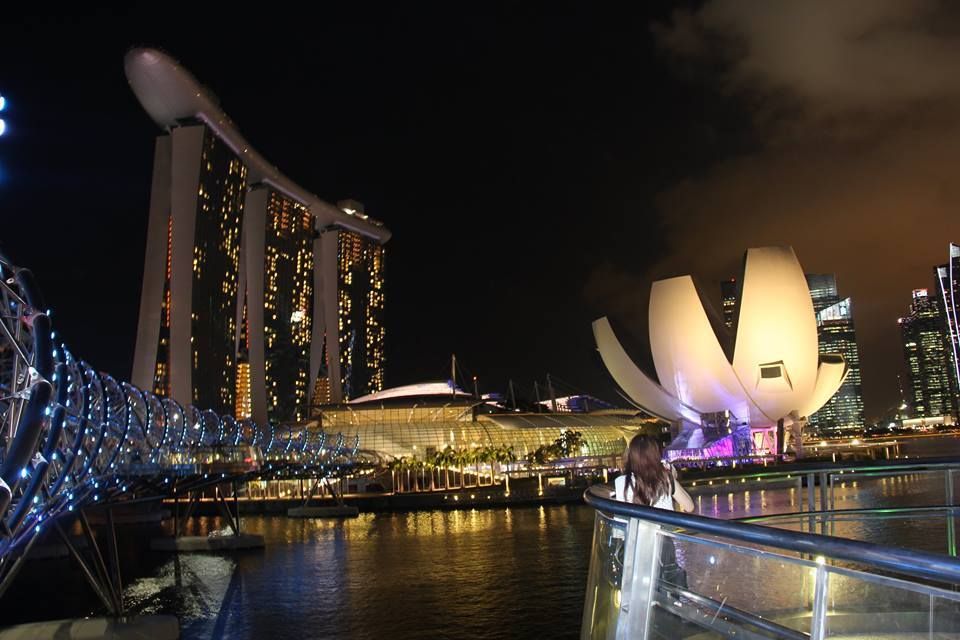 Spending the evening at Marina Bay Sands.
'Garden Rhapsody' is a masterpiece show of light and sound, featuring 'Supertrees' dancing to contemporary and classical music.
The highlight of Day 2 was visiting Universal Studios Singapore.  As it was coincidentally Halloween season, so the students also attended the notable Halloween Horror Night at USS. Rain did not stop people from celebrating Halloween. They enjoyed the live performances. Screaming could be heard from all the scares in the haunted houses. In total, there were four haunted houses and three scare zones to be visited. Keshini Seewoochurn, a student from Mauritius said,
Sometimes an escapade is all we need, to a whole new place, with a whole bunch of new people. Thank you Nottingham Travels for making this trip a memorable one. I had the best Halloween celebration ever!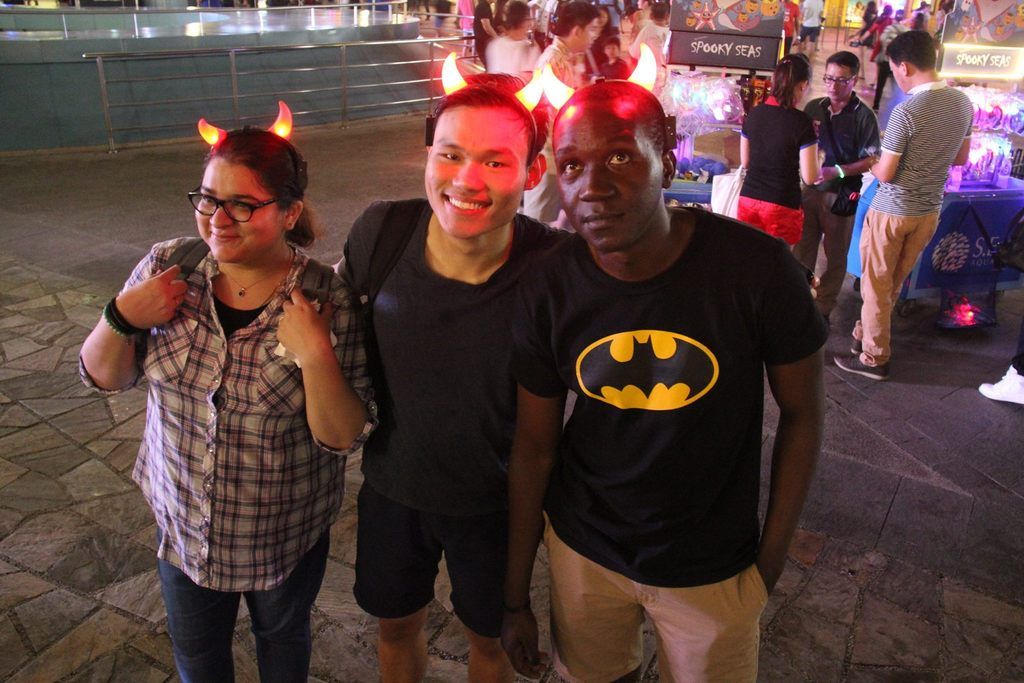 Halloween Horror Night at USS.
Before heading back to UNMC on Day 3, the students also visited the famous Orchard Road where they were given time to shop at various shopping malls; namely Tangs, Ngee Ann City and 313@ Somerset. At around 3.30pm, the students crossed the border again and the trip came to an end. Dariya Shamshidenova, a student from Kazakhstan said,
There were a lot of interesting things and places to see, and the variety of food made me happy.
However, she felt sad that the time spent in Singapore was too brief. Nevertheless, she had a great time and felt "refreshed" to continue her studies. Watch what she recorded during the trip here.
To know more about future Nottingham Travels trips, please visit our social media platforms: Facebook; Twitter; Instagram.
By Siti Salmi Binti Mohamad Zainury
Secretary of Nottingham Travels 2015/16