UNMC's School of English came up with the idea of an online creative writing magazine called Particle as an avenue for creative writers in all three Nottingham campuses to showcase their talents. Published every semester, this magazine is an anthology of Nottingham students' (and the occasional staff contributor's) writing in various genres: short stories, poems, essays of fiction, creative nonfiction and reviews. This semester, Particle's fifth issue, with the theme of 'Desire' was launched successfully on the 10th of December 2015 in F3B06.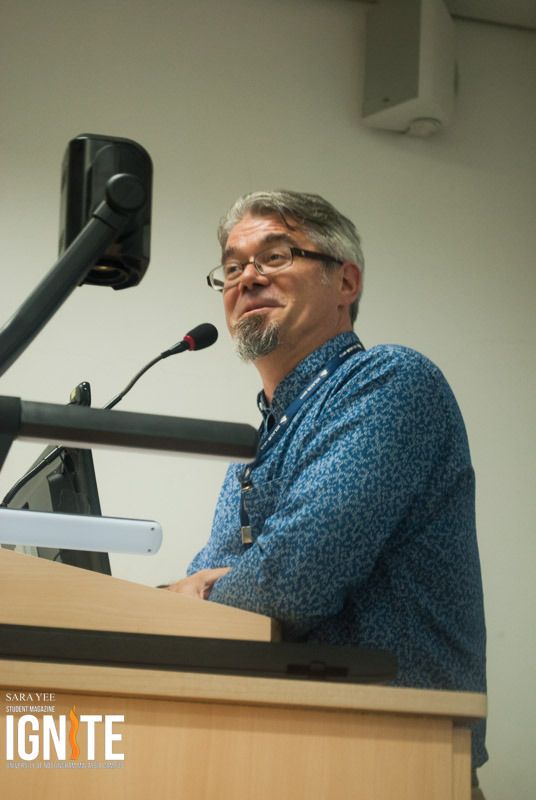 Dr. Derek Irwin, Head of UNMC's School of English, commenced the launch with his welcome speech. He noted that the number of submissions and the quality of submissions had increased, and hoped that this trend would continue. Later that evening, Chief Editor of Particle and School of English Assistant Professor Dr. Shivani Shivagurunathan thanked the students for their submissions, besides acknowledging the efforts of the student editors in making Particle a success.
Third year student poetry editor Nurazlin Khalit then read out the issue's letter from the editor, which she had co-written with fellow poetry student editor Amanda Jacob. She noted that the 'desire' theme was intended to inspire writers across all Nottingham campuses to explore their desires with no restrictions, and thanking the published writers for demonstrating courage in exploring the various inner desires they harbored.
The next agenda of the evening was the recital of a selection of the issue's published entries. The poems 'I'm Leaving' and 'Sunday' were recited, alongside a reading of the short story 'If Only' by fiction student editor Suzanne Ong. Fiction student editor Augustine Chay also presented a short summary of the 'Vietnamese Bride', while discussing contemporary issues of human trafficking and bride kidnapping in China.
As a literature enthusiast myself, I was extremely happy with the content and quality of work that was published this semester. Attending the magazine launch also triggered my very own desire to continue writing, with the hope of being published in subsequent Particle issues.
By Dinesh Jayabalan