DAGGERS, a collective effort by the Digital Arts Guild, has released their very first issue, promising to be a melting pot for diverse creative fields ranging from photography, writing, graphic design and the fine arts.
And we must say that it has come together well into a vibrant and entertaining read, delivering as promised. Cover to cover the magazine is filled with brightly colored illustrations and interesting bite sized reads. Anecdotes such as "Absolute Music" by Johann Cheong tells a melancholic account of his music teacher and "A Farewell to Lungs: An Nonliterary Georgetown Festival", a fast-paced offbeat account to what really went down in the 2015 Georgetown Literary Festival, telling of misadventures of alcohol, a missing phone, kind strangers and bicycle rides. There is even a tribute to "The SA Cat" that we used to see wandering around campus.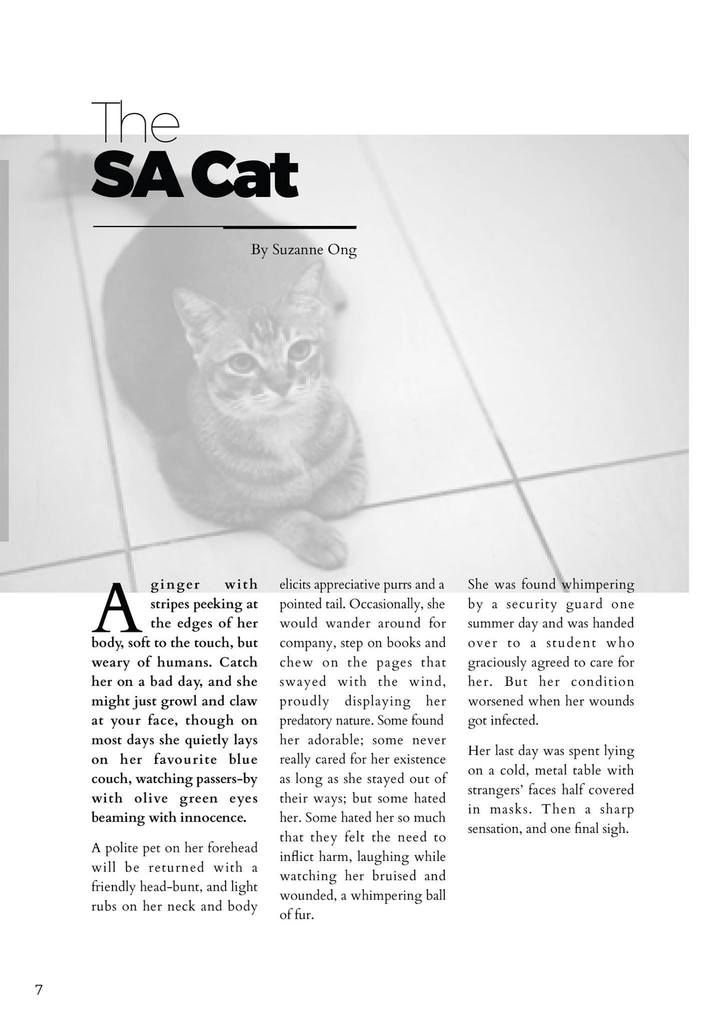 Not to mention, the dynamic art feature sections where you'll be able to find the zany artwork-in-a-jar model entitled "Sea Cupid & Forest Cupid" by Ayaka under Handmade Crafts to well-known superheroes reimagined in "Batman and Bane" by Karl Bautista under Digital Art. Also more traditional and highly technical pieces make their appearance as well such as Wasif Hyder's "Serene". Hence, we wanted to know how such a magazine came to be, so we sat down with the editor-in-chief, Lim Xin Ying, to tell us a little more about DAGGERS and what went behind the scenes.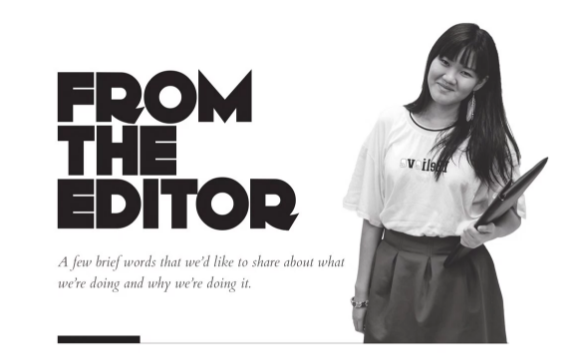 How did the idea for DAGGERS come about?
We wanted to have a creative platform for students to simply express themselves. DAG has an extensive archive of works by us, students, that hardly goes beyond the club and we felt it was time to share it as well. If I'm not mistaken there wasn't any art platform within our university before this and we wanted a space for the more light-hearted and entertaining works of students.
When we first started, we thought of having an online platform instead of a magazine. The president of DAG, Wasif Hyder, recruited me to create our very first issue as he knew I was doing my degree in English with Creative Writing. I brought in a few friends who brought in their friends as well and we snowballed from there.
Why the name DAGGERS?
For a while, believe it or not, our prototype name was actually 'Butter'. We wanted a name that was short and would stand out. We later felt that if would not work and decided to include the acronym of Digital Arts Guild (DAG).
How was it like organizing the writers, graphic designers, photographers and fine artists who are all from different fields of art to come together to produce this magazine?
It wasn't that difficult, yet it wasn't that easy either. We have 10 people in our core team who are all very efficient. Under me, I have a few deputy editors. Suzanne, in charge of fiction while Daniel in non-fiction which we try to keep campus related (eg: 'The SA cat'). They are the ones who have complete power over the content they are in charge of.
What I can say is that a lot of our contributors to the content are from outside of the club, which we keep open to all UNMC students. Our president, Wasif, and Karl, are the ones that work on the design aspect. Those who do not play a role in the content also play a big part in terms of organizing logistics, printing and finances. Although quite a lot goes into a piece to be produced. We have to think about the graphics or photography that goes along with the written piece and also if it is in cohesion with the rest of the layout of the magazine.
What was your favourite and most difficult aspect in creating and editing for DAGGERS?
I enjoyed the process a lot, especially with the anticipation of finally seeing everything come together in the hard copy. We have been working on our first issue for a long time coming, about a few months, and to be able to hold it in your hands finally made it all worth it. Also, I love writing and reading the works of my peers.
What was most demanding would be the design of the magazine especially in terms of handling the program and the proof reading to make sure that the magazine was error-free.
What are your aims for DAGGERS in the long run?
We're going to release a second issue soon that has just been sent for printing and a third issue by the end of April or the beginning of May. Also, we have plans of having a sizable summer special issue at the beginning of the next term year. If all goes well, I will be passing my editor-in-chair role to someone else too. So for now the goal is to keep expanding for DAGGERS in terms of our team and number of issues. We printed and sold out all 50 copies for our first issue and hope to be able to get a larger number of copies in print for our future issues.
I feel that within the periodical publication market there are hardly any creative art magazines that caters to such a wide field of arts circulating around. One of the 'dreams' of my team, the collective DAG members and mine is to see DAGGERS on the shelves of bookstores beyond this campus, and maybe someday have an online store as well that would take orders from around the world. That is the ultimate aim.
You may read this issue here.
By Yvonne Tan