They sat, side by side, different from one another. Neither is truly content, and "the world is a bad place," as one of them puts it. In this constricted space anchored to familial ideals, expectations, and restrictions, Tony and Steve, two desolate souls yearning to have what the other has, takes us back to the familiar days of adolescence, when life was but a mere sketch on canvas, encased by a frame of prospects, and parental ambitions.
"I Wish I Were Him", written and directed by Bryan Stacy Simon, invites us back to this very period in time, resounding the themes of freedom and identity that becomes the object of Tony and Steve's struggle. Ahmad Danial, playing the jovial Tony, presents us with the typical, popular athlete, contrasted to the studious, rigid Steve, portrayed by Edmund Khoo. It is rather apparent, however, that Edmund's portrayal of Demetrius in a previous staging of "A Midsummer Night's Dream" occasionally brought him into the Shakespearean world. Steve's voice often oscillates between a modern young man and a fifteenth century Shakespearean squire. But Steve's representation is not at all, to say, faulty. He is a foil to the amiable Tony, although both characters never interact with one another. Rather, they are gracefully weaved into a thread of counterpointing interactions, as their speech and gestures overlap onto one another. Danial's casual and jocund representation of Tony balances the stiffness of Steve's personality, creating a delicate equilibrium between the two.
Certainly, Bryan's effective portrayal of the hard-headed father figure and Emily's version of the high strung mother comes as no surprise in this piece. Both characters represent parental archetypes – the Asian parents who dictate their children's future – delivered realistically by both actors and bringing forth laughter and amusement. But a certain acknowledgement is evident as the scenes progress, and you cannot help but notice a few nodding heads and several pointing fingers.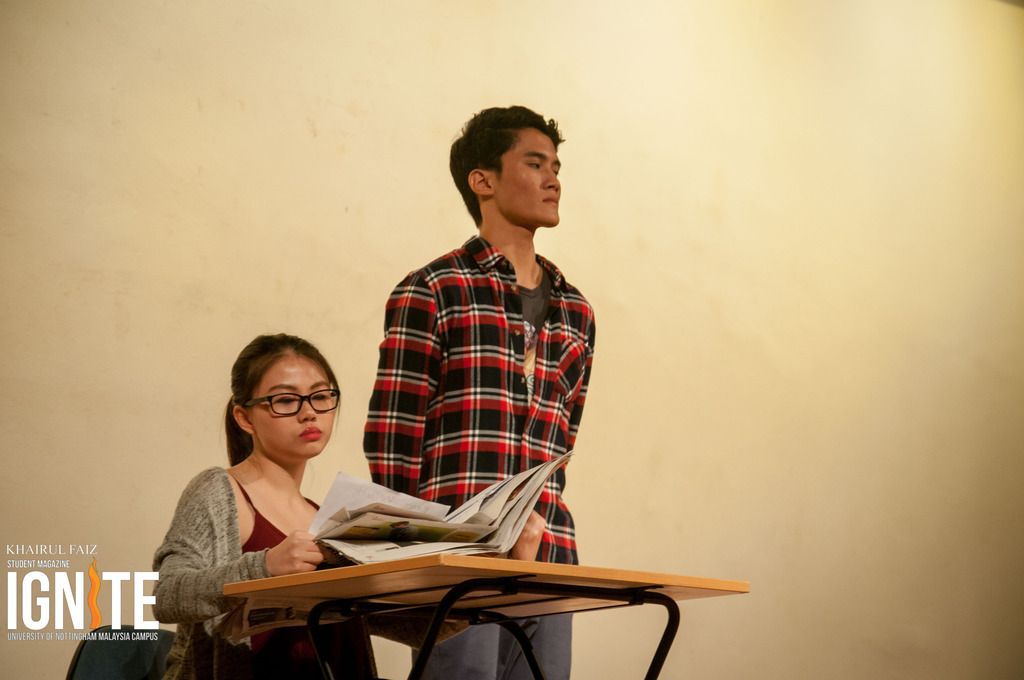 "I Wish I Were Him" invites us to a space that is now, perhaps, lost in time. It is a time where we are constantly shaping and reshaping our identity, and indeed, it is a brief period of time. The space by which Tony and Steve are confined to onstage is in itself a restricted space, marked by two work desks which never moves, or at least, removed, on either side.
One is never truly free, and as both characters continue to return to this constrained, archetypal space, they remind us of the visceral need to venture beyond boundaries, to accept oneself as one is, and to abject, in Julia Kristeva's words, the maternal and paternal, in order to become real and significant in the symbolic world.
Actors
Ahmad Danial b A Ghafar
Edmund Khoo Yean Ren
Emily Chen Sue Mei
Bryan Stacy Simon
Written and Directed by
Bryan Stacy Simon
By: Nora Ramli