UNMC students who happen to still be around campus for the summer break would probably have noticed the posters for the Water4Power project on various notice boards.
Ignite recently interviewed Dr Ting Kang Nee (Project Advisor and UNMC Project Leader), 2nd year Chemical and Environmental Engineering student Eileen Tam (Engineering and Waste Management) and 2nd year Biomedical Sciences student Jonathan Chooi (Logistics and PR) to learn more about Water4Power.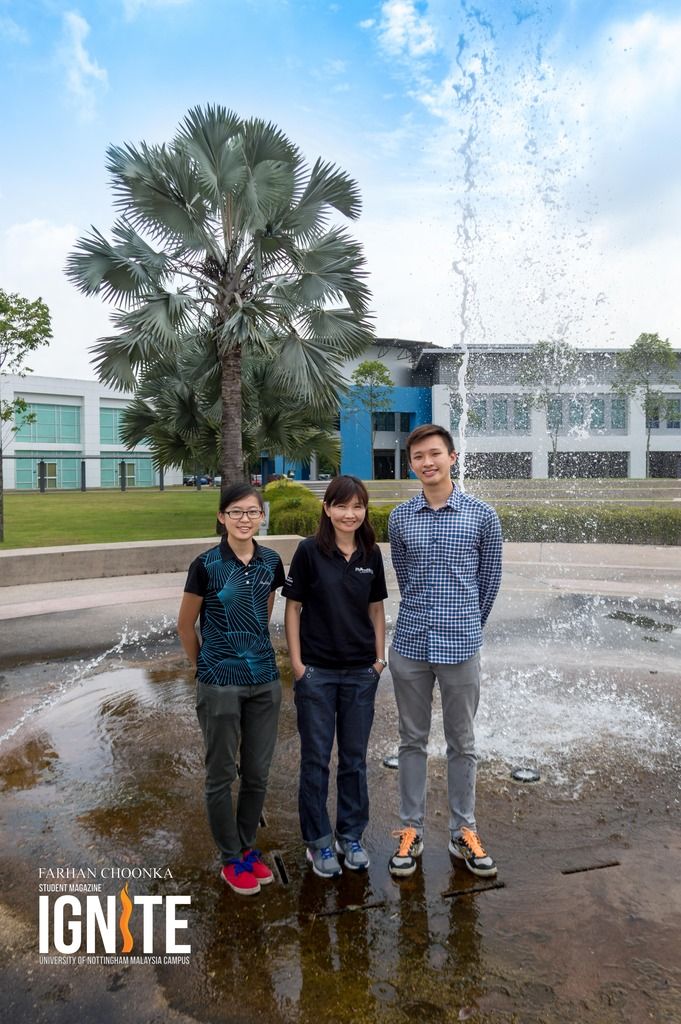 As the project title suggests, Water4Power's primary aim involves building a micro-hydro generator for Kampung Sapit, Sarawak. The village currently relies on a diesel-run fuel generator, which produces electricity at a relatively high cost (RM 5/1.5L) for the villagers. The UNMC team (led by 3 lecturers and 28 students) will be collaborating with 7 engineers from Engineers Without Borders Malaysia (EWB-M) to provide a greener and more sustainable energy source for the Bidayuh community. Under supervision by the EWB-M engineers, the students will be responsible for the piping and wiring, estimating the amount of materials needed, and troubleshooting for problems with the generator. Aside from the technical aspects of the project, the student volunteers are also responsible for getting media coverage and handling the logistics of the entire project (daily itineraries, purchasing of food, etc.).
The project also aims to create a more eco-friendly waste-management system for the village (which currently practices open-fire burning of their thrash and does not dispose of some types of rubbish appropriately), and to provide some basic medical care alongside some educational activities. UNMC and EWB-M is collaborating with REACH (Rural Expeditions Aiding Community Health) to provide health checks with the help of the student volunteers, while the UNMC team plans to conduct some simple educational activities for the school children of Sekolah Kebangsaan Kambug (a primary school serving several villages in Ulu Padawan, including Kampung Sapit). Jonathan Chooi explained that "we are in the process of planning English activities – in language, a little bit on engineering [and] a little bit on healthcare. So mostly we do this to inspire the children, for them to actually want to achieve something."
The UNMC Recce Team inspecting the river 
GENESIS
Dr Ting explained that Water4Power was a follow up from her previous project, Water4Life. After obtaining a Cascade Grant to aid the Penan community in Long Itam, Dr Ting decided to collaborate with UNMC alumni Lim Sze Wei, one of the co-founders of EWB-M, to lead the team of 19 students and 3 lecturers in building a gravity feed water system for the Penan community. Two students who were involved in Water4Life – Roger Lee and Lai Ruishan – are also involved in Water4Power.
This time around, Water4Power was initiated by EWB-M, who identified Kampung Sapit through Light Up Borneo (LUB), an NGO that works with communities in the interior regions of East Malaysia. The project currently relies on the knowledge and local connections of local leader Willie Mongin, who assisted in helping UNMC and EWB-M reach out to the village leaders of Kampung Sapit.
FUNDING
The project proposal estimates the total costs of the project to amount to RM 100, 000. After securing a Cascade Grant and an Alcoa Grant, the students involved plan to raise the remaining RM 30,000 – 40,000 by seeking corporate sponsorship and soliciting online donations. Sufficient funds have been secured to purchase the generator, wires and pipes; the team plans to ration the medicines that they will use for the health checks, and to have students pay for their own plane tickets and transportation should they be unable to secure the remaining amount.
AIDING THE MARGINALIZED
Dr Ting, armed with first-hand knowledge of the plight of the Penan from her previous community outreach engagements, noted that the Bidayuh were in a relatively better-off position: "the Penan community is one of the most marginalised in Sarawak … [they are] really backward in terms of education and their way of life, because they were nomadic for a long time." She noted that Malaysian state governments have faced inherent problems in supplying indigenous communities like the Penan with proper access to basic amenities like clean water, electricity, education and healthcare. Indigenous communities face major difficulties in sustaining their traditional ways of life, with the forests they rely on for food and medicinal herbs being increasingly threatened by logging companies, palm oil estate developers and dam construction projects.
Dr Ting explained that "the issue with education is these interior villages are quite far from …the closest government school. They need to travel to the school, and there are a lot of issues with travelling …when they don't have transport, they are open to assault [when hitch-hiking] …some of the Penan girls have been sexually assaulted, and have been raped."
"Imagine that you have been in the forest for the first six years of your life, and you speak your local indigenous language (Penan or Bidayuh). Then you are sent to school …imagine being six years old, staying in a boarding school without your parents. And not knowing Malay, English … they don't know what is discipline …imagine having to sit in a class having to listen to someone babbling something you don't understand. So a lot of them get punished by their teachers, they got bullied by their friends because they don't know the language … So that causes a lot of drop-outs."
Dr Ting concluded that her social outreach projects needed to be holistic in their approach to effectively improve the lives of the communities she aimed to help, and expressed optimism that UNMC has decided to actively work towards supporting the Penan community in particular and marginalized groups in general, by providing better access to quality preschool education.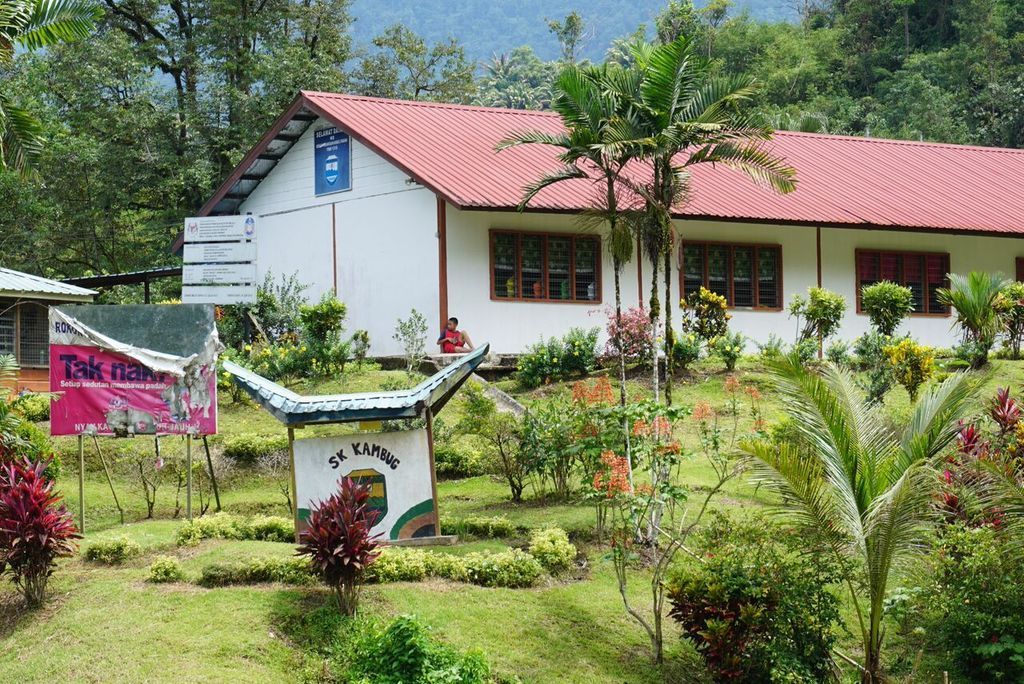 The nearest school, SK Kambug, is a 2-hour walk from Kampung Sapit
MAKING A DIFFERENCE
When asked about her motivation for participating in Water4Power, Eileen Tam spoke about her desire to ameliorate some of the inequities in Malaysia: "We all are Malaysians, but we still have disparity. As a student, I guess this is one of the platforms – it may seem like we're not doing much – but it's an opportunity to open up our eyes, see what is really happening that we don't see around here. We reach out, and we help."
Eileen also noted that "those who participate in this project should have an open mind. Most of us are living in very comfortable environments here; we have been raised with all that we could ask for – we have water and electricity at our disposal. So those who participate in this project will actually see how difficult it is to get to the village itself, the track we need to go on … so it's important to have an open mind and embrace whatever challenge there is."
When asked how Dr Ting found the time to juggle her work and family commitments with her social outreach projects, she jokingly replied, "No idea! Sleep less … don't watch TV. I don't watch TV at all. My TV is for my son to watch his cartoons."
She noted that the major challenge for students who have no prior experience in such demanding community outreach projects was "to actually be bold and take the step to even consider going into the interior … some of them were a bit of a couch potato, a city dweller. Once they are in the team, they have to show commitment. I still see some members of the team not fully committed to the project …If you want this to be successful, everyone must commit fully."
When asked what initially sparked of her attempts to aid marginalized communities and what sustains her ongoing efforts, Dr Ting explained that "It's very strange, how it all started. It just happened, and it just cannot stop. It's just amazing: your aim is to do one thing, but the ripples that you don't see is actually quite beyond what you can imagine. The one thing you do, that you can see – there's a lot more effect that you don't see."
The Water4Power team also had this advice for those interested in volunteering for similar projects:
Go – give it what you have. Use your expertise and skills and be of service.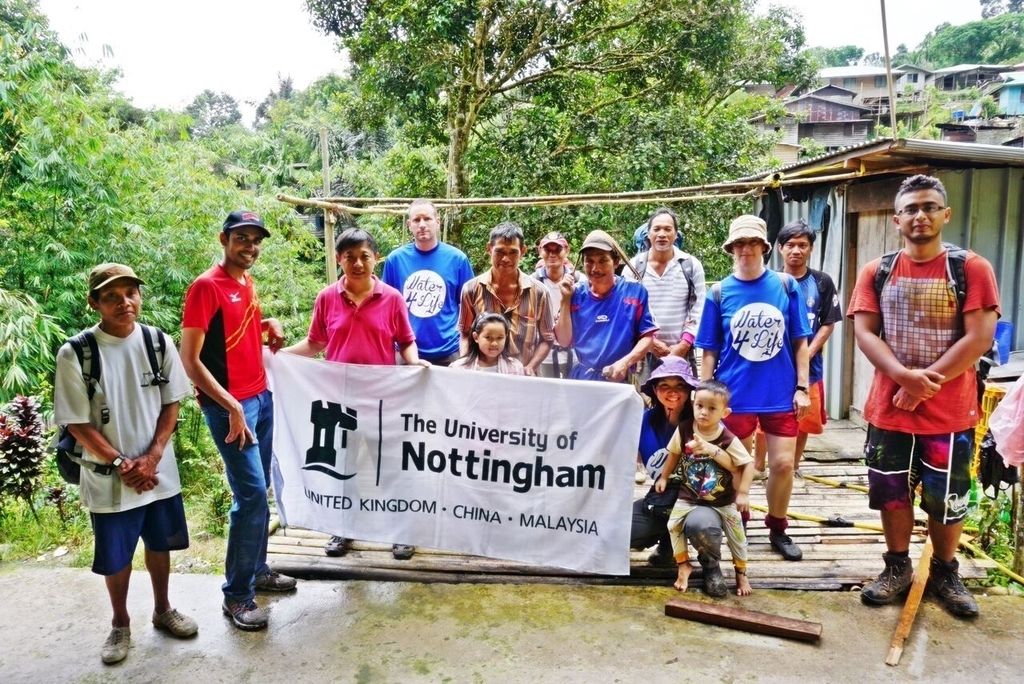 The UNMC Recce Team and villagers of Kampung Sapit
By Augustine Chay