SPORTS COMPLEX: The first ever Nottingham's Fittest was held on the 5th of December, from 9 am to 1 pm. Organized by the UNMC Fitness Club, the event aimed to identify the fittest man and woman on campus, whilst encouraging a healthier lifestyle in the students who chose to participate.
Despite the event being a no-go during the last academic year, it managed to garner a modest turn up of 17 participants. Fitness Club President Victoria Cheng noted  that "there were some obstacles in terms of marketing and organizing committee manpower. However this was all a thing of the past as the volunteers we had were passionate and dedicated. I have to say it's one of our proudest achievements-being able to recruit such wonderful individuals as volunteers." A total of 30 volunteers were recruited for this event to man each station and keep score.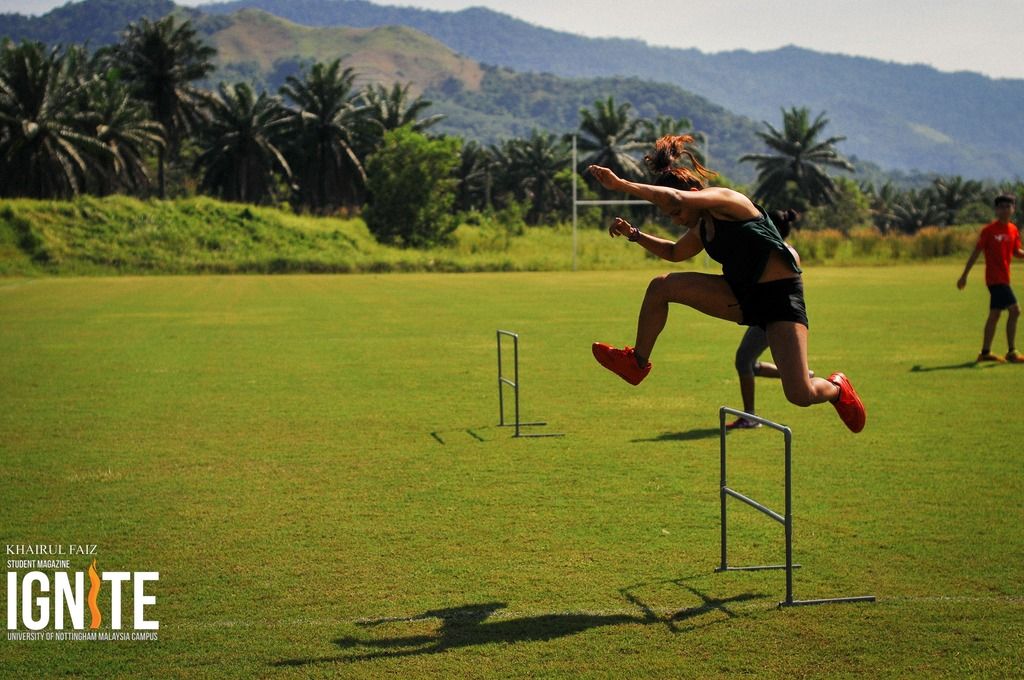 The Sprint Station
Organizing chairperson Ravinraj a/l Anboselvan stated that his interest in cross fit, which tested an individual's agility, stamina and strength, was an inspiration for the event: "When I was in high school, I was involved in athletics but there weren't any cross fit competitions. So I thought to myself that why don't we have something similar to this for the students of UNMC." According to Fitness Club Vice President Khairul Anuar bin Jamaluddin, who served as a Sergeant in the Singapore Civil Defense Force, the six stations-  sit-up, push-up burpee, standing broad jump, pull-up, sprint and a 2.4 km run – was inspired by the Individual Physical Proficiency Test (IPPT) conducted by the Ministry of Defence Singapore for all Singaporean men throughout their compulsory two-year National Service program.
As participants entered the Sports Complex, they were greeted by a score board (handmade from recycled wood by the committee members) displaying the best scores for each station. After registration and a short briefing on the dos and don'ts, the games began with the participants completing each station in their designated group. In spite of the competitive nature of the event, participants cheered on their competitors in their own group, effectively getting to know each other and forming a bond.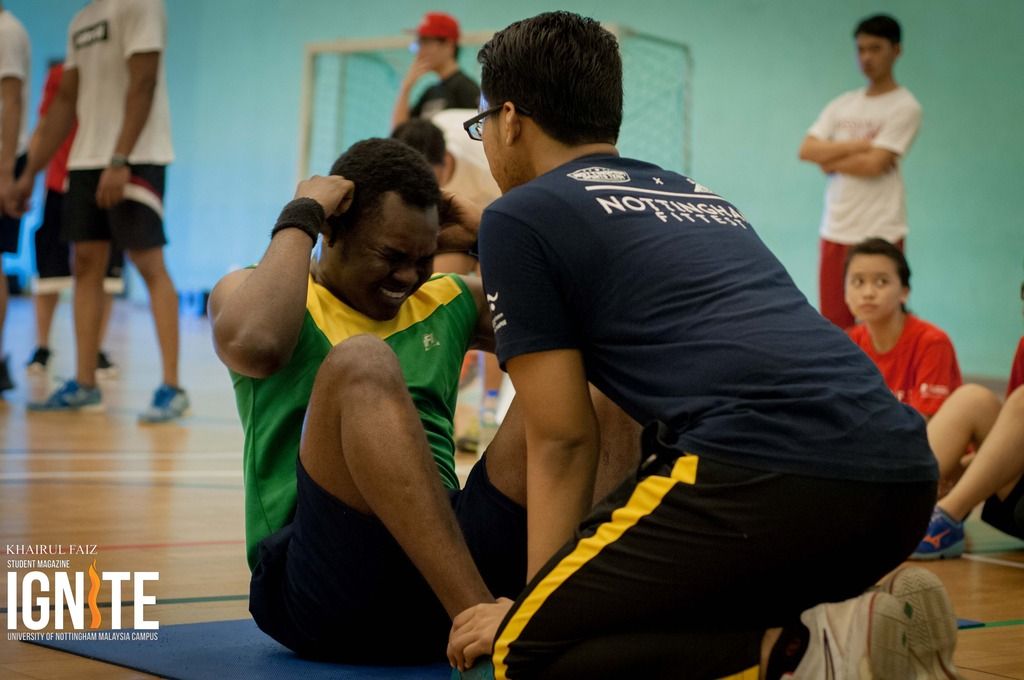 The Sit-up Station
It was really fun to compete against other students in a very nice and friendly environment, where everybody supports each other even though they are competing.
 Vytautas Perliba; 2nd runner up, exchange student from Nottingham UK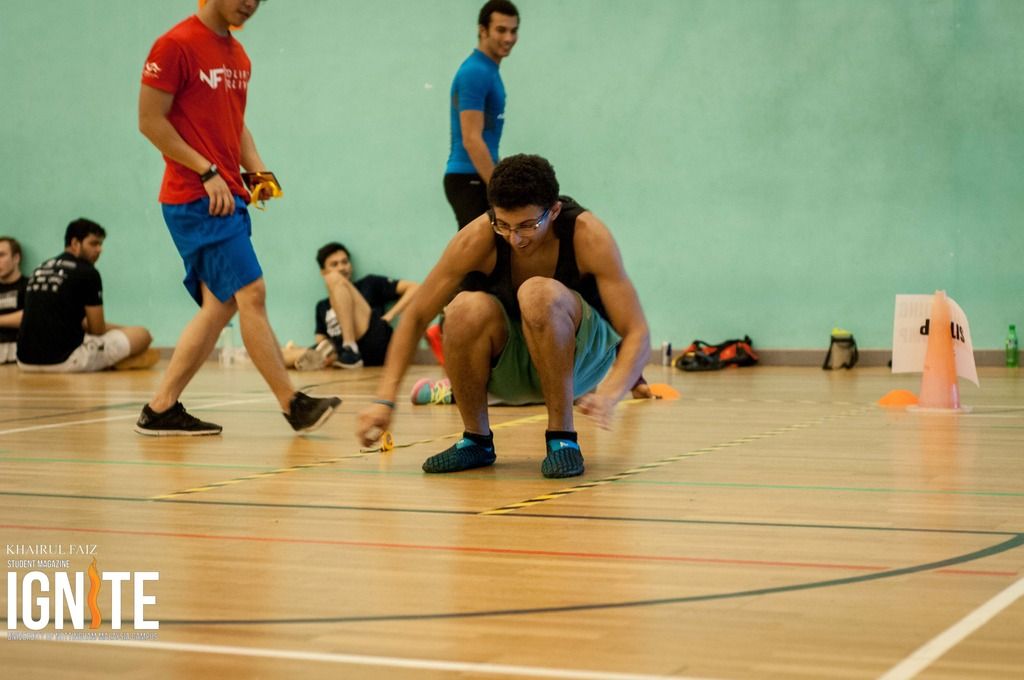 Standing Broad Jump Station
The best scores at each station are as follows:
| | | |
| --- | --- | --- |
| Station | Male | Female |
| Sit-ups | 52 by Dinho | 44 by Natasha |
| Push-up Burpee | 25 by Brandon | 14 by Clarissa, Atifah, Natasha |
| Standing Broad Jump | 294 cm by Brandon | 186 cm by Atifah |
| Pull-up | 25 by Brandon | N/A |
| Inclined Pull-up | N/A | 20 by Clarissa |
| Sprint | 25.3s by Brandon | 33.9 by Atifah |
| 2.4 km Run | 11min 7sec by Massoud | 17min 7sec by Clarissa |
Everyone present was also treated to sponsored cans of Redbull, refreshing and cooling them down after being scorched by the sun scorched throughout the final station, the 2.4 km run.
In the end, Brandon Sung and Clarissa Sally Matthews emerged as the winners for the male and female categories. This was announced to thunderous applause and roaring cheers.
Ignite had the chance to sneak a quick interview with both champions; gaining insights into their training regime and feedback on the event itself.
Men's Category Champion: Brandon Sung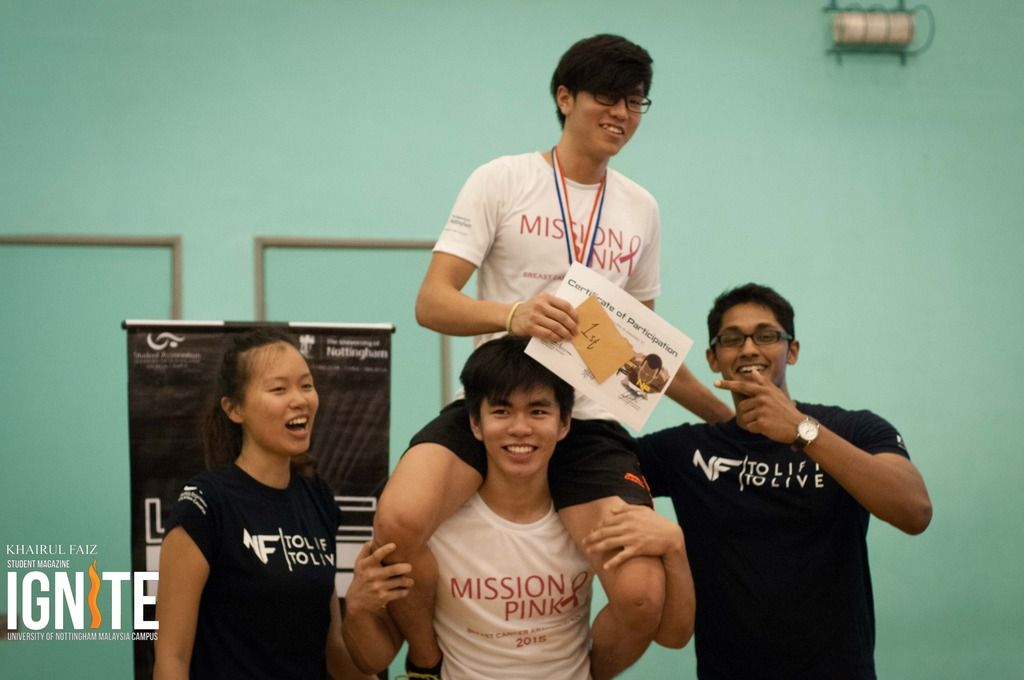 How did you train for Nottingham's Fittest?
I drank Redbull.
How did you feel before and after the event?
I felt a little nervous before the event began but was relieved once it was over.
What was the most challenging station?
The pull-up station.
Is there any experience or feedback you would like to share?
I think the stations were too easy and could be made to be more challenging.
Women's Category Champion: Clarissa Sally Matthews 
How did you train for Nottingham's Fittest?
I didn't train too much or pushed any limits; just some cardio, zumba and some weight-training four times a week-nothing too extreme.
How did you feel before and after the event?
I was very nervous before the event began especially after seeing my competitors! I almost pulled out but continued with the support of friends. I was shocked and glad at the outcome at the end of the event.
What was the most challenging station?
The pull-up station because I have never done pull-ups before. It was a struggle.
Is there any experience or feedback you would like to share?
I was most impressed by the volunteers who were very supportive. Kudos to them! The event was also well-organised. Hopefully there will be more participants if this event was organised again.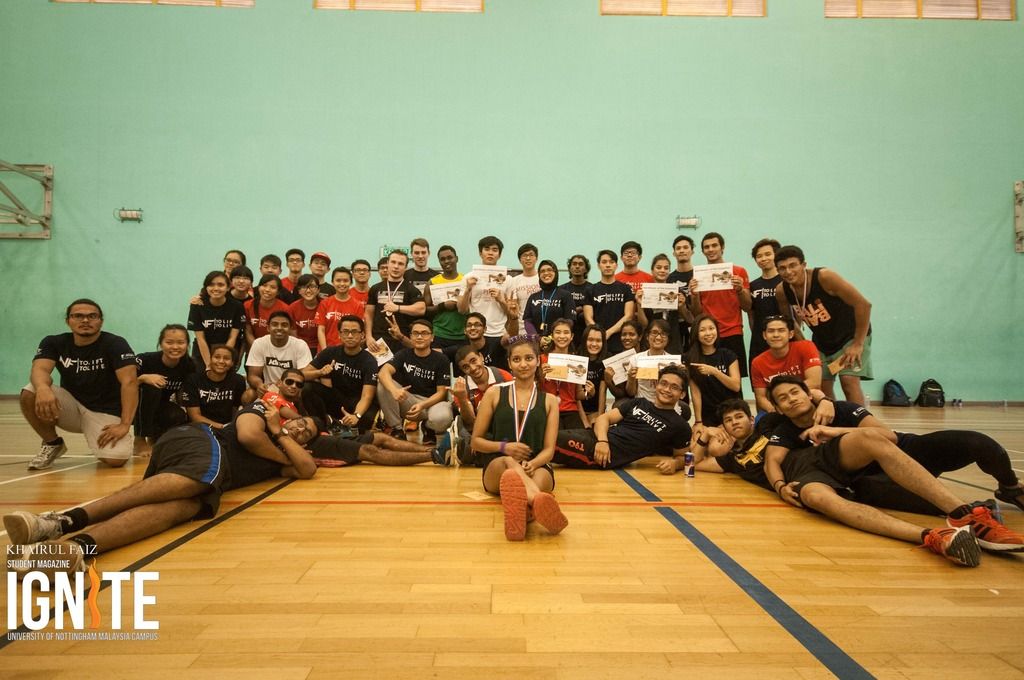 It was a small-scale event, with a big heart at its core and with grand support from contestants, their friends and volunteers and committee alike.
Victoria Cheng, Fitness Club President
Nottingham's Fittest received mostly rave reviews. However, Imran Muhammad (Head Coach of UNMC Fitness Club) and second runner up Vytautas hoped for greater participation in the next Nottingham's Fittest event. Vytautas also added that power exercises from the gym should be included as it is included in the club's training sessions.
Organizing chairperson Ravinraj also mentioned some improvements which will be implemented in the next academic year. This includes having Nottingham's Fittest in the second semester instead of the first, to ensure that the participants have ample time to train for the competition. The best scores of this year's event will also be put up at the Sports Complex, together with some nutrition and training tips as a source of motivation. Vice President Khairul also noted that the programme might have been perceived as being too elitist, as it made people doubt themselves while intimidating others. "It is something we will work on and tone down for next year's event."
By Natasha Marie Francis