It's normal to worry about how your degree will help you in the future, especially if you're experiencing mid-semester blues. As an International Relations student I'm always in an interesting situation where conversations of what I'm doing in university will usually be met with confusion, which is then followed by notions of certain career paths ("Ah, so you want to be a diplomat?"). So, without further ado, here is an insight into some IR students' thoughts about their current field of study.
Alia Amira
When Alia took history while doing A-levels, she wanted to do a degree that utilises what she learned. She is now taking IR with Japanese. As a history buff, she finds that her background in history really helped in dealing with the content of the lectures; you cannot analyse politics without being informed of the historical context. Furthermore, she loves reading, so while she finds the readings to be cumbersome sometimes, she firmly believes that they are necessary to deepen one's knowledge and understanding.
All I want out of life really, is to be happy
She was originally supposed to attend King's College London but due to unfortunate circumstances, she had no choice but to go to UNMC. She has learnt to overcome her disappointment though. What she likes most about IR is that everyone has a chance to voice their opinions in class – she doesn't believe in simple "yes" or "no" answers.
The biggest challenge: learning a new language (Japanese). Like most pursuits that require having to start from scratch, it demands time and dedication. However, Alia loves challenges so the bigger the challenge, the more thrilling the ride.
After finishing her studies, she plans to travel. She hopes to do her Masters in Japan and eventually be a well-travelled person who's capable of making a difference in this beautiful world of ours.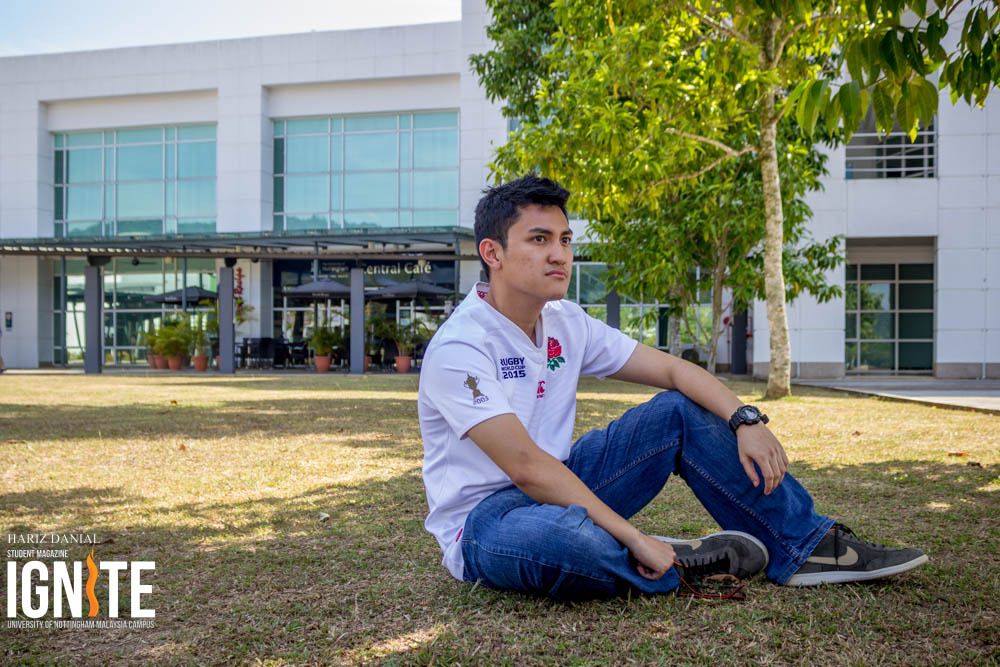 Emilhisham (Khasey)
Emil (or Khasey as some like to call him) is currently a first-year in his second semester of International Relations. He began his interest in politics at the age of 14 when following his father (who was an UMNO Selangor leader) in the 2010 Hulu Selangor by-election. Prior to this exposure, he always thought of politics as simply political parties bickering with one another.
After SPM, he wanted to take Political Science but it was not offered in local universities. He started off taking Foundation in Business at Taylor's. He later found out about IR in Nottingham during his first semester in foundation.
The most important aspect of IR to Khasey is being given the opportunity to understand different ideological frameworks and hoping to apply what he has learned to the Malaysian context. To him, learning the basics of politics is important in order to improve the economic and social issues of the country. However, he also feels that Malaysian society is not yet matured enough to be able to have these kinds of discourses. He finds the demands of academic writing to be quite challenging and wishes there to be more group work in the seminars.
When I asked if he would be interested in entering politics as a career, he said he would be. He's already involved in many organisations that hold youth brainstorming sessions which can provide a platform for discussions of socio-political issues and public policies. He's also applying to work as an intern in the Perdana Fellows Programme.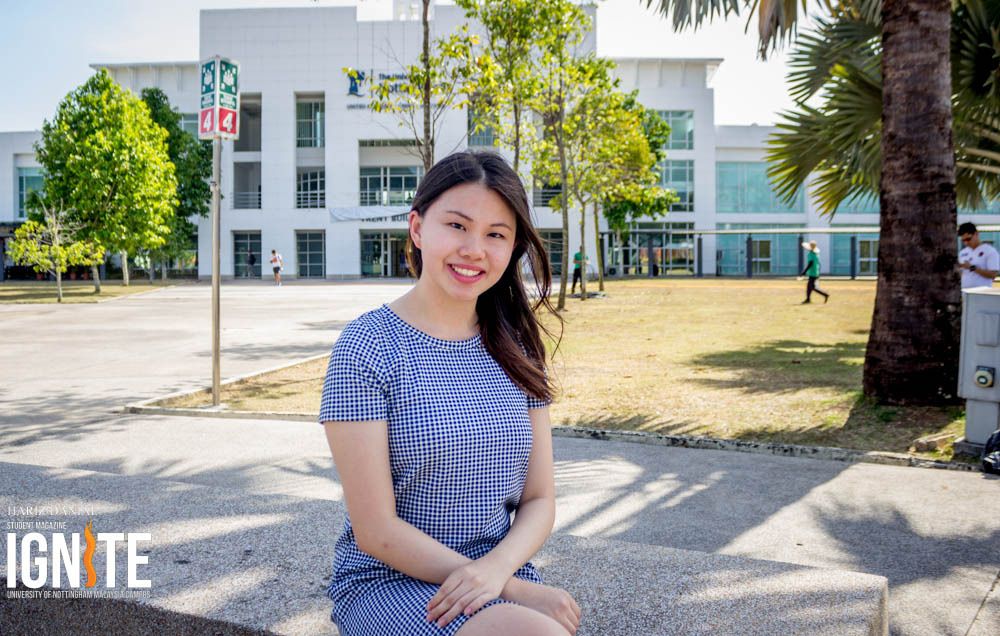 Emily Chen
Before coming to Nottingham, Emily lived in Thailand for 5 years and attended the Garden International School. She took history in the International Baccalaureate Diploma Programme (IB) which sparked her interest in politics.
The main reason for why she took IR is that she feels that education should teach you a different framework for thinking. She feels that most people our age are not certain about where we will be in the next 10-20 years. She does not believe that the course you take necessarily equates to your profession. Rather, she sees university as an opportunity to discover yourself – much like an eliminating process, you eliminate what you know is definitely not for you.
I think there's so much pressure for people in my age group to know for certain what you want but in life, I don't think there's such thing as certainty
Whether or not you like what you are currently doing right now, the important thing is taking steps to explore where your interests lie in. For Emily, she is looking forward to learning about the Middle East. She's also applying to go on exchange to Toulouse, France.
She finds the coursework to be one of the main challenges of the course as it can get quite laborious. However she does enjoy it at some parts. One of the perks of taking pure IR without a language is that you have more freedom in choosing your elective modules. In that way, you get to try out different subjects that may not be part of your school. In Emily's case, she's also taking creative writing and applied psychology in addition with her core modules.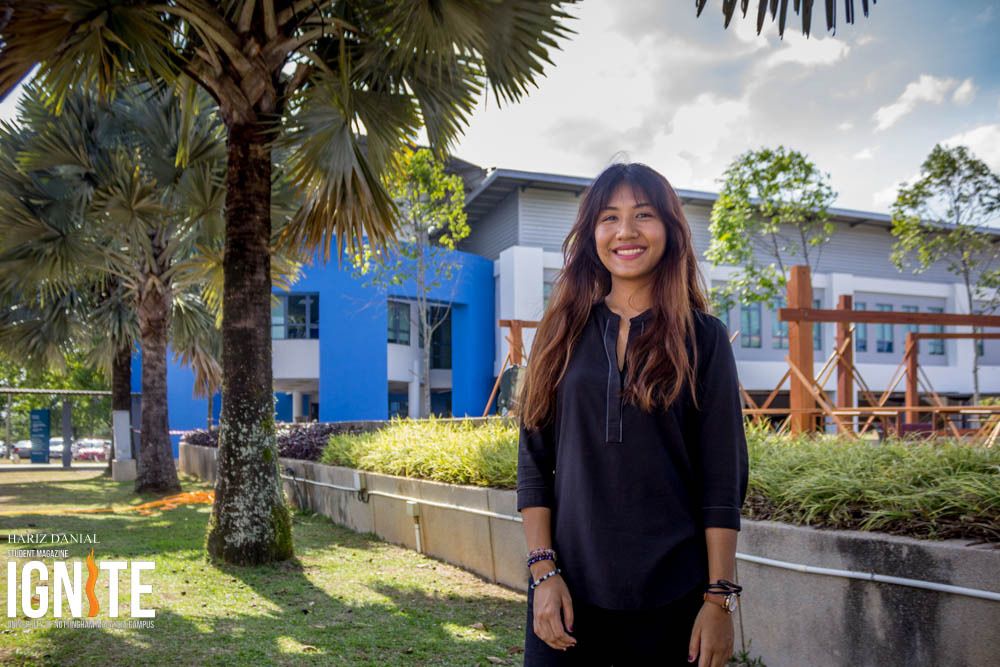 NurLiyana Nadhirah
Liyana is currently taking IR with French. Her impression of IR before taking it was that it was a full course on International Law and did not expect it to be so history-based. However, she quite enjoys it and is particularly interested in modules such as Introduction to European Union Politics and Governing the World. Like Alia, she decided to take IR when she was doing her A-levels at Inti College.
She has a deep interest in humanitarian aid and dreams of travelling the world. She feels that IR will be able to provide her the grounding in order to better understand the workings of the international system. Her mind is split between becoming a diplomat or helping out the underprivileged.
She ideally wants to move to Seoul and work at the UN offices based there. She is also considering working with MNCs over international relations and PR matters. According to her, you can never straight up work in an embassy without experience so she wants to build that up in the economic sector.
When it comes to her studies, her motivation for getting through the drier readings is to tell herself that the texts are needed for basic understanding. Her one rule in life is to not judge or jump to conclusions.
She is also a committee member of PHIR-Nott, the student body for the school of Politics, History and IR, which basically helps the school better engage with and provide learning-based exposure to the students. For instance, in collaboration with Career Services and the School of Modern Languages and Cultures, they organised a Careers Day a few months ago.
Simi Khag
Simi is a 2nd year on exchange from our sister campus in the UK. She was required to do a year abroad as part of her degree (IR and Global Issues) and chose Malaysia for the convenience and good weather. Having experienced both campuses, she is able to pick out the differences between how the courses are taught and what makes IR in UNMC uniquely Malaysian. For instance, she took Understanding the Malay World during the first semester, but is admittedly favouring the 2nd semester modules.
"It was interesting learning Malaysian history. I don't know everything, but at least if someone asks me, I can tell them something"
She decided to take IR back when she was in Year 12 (Form 6). She was always interested in news and likes knowing what's going on in the world. She's not set on a career path, so she's hoping to decide on what she wants to do by the time she's a 3rd year. On one hand, she can stick to something IR-related but she can also see herself going into marketing or PR. The nice thing about IR is that it doesn't restrict you to what type of job you would apply for. In the meantime, she's planning on doing some internships.
So far, she is really enjoying living in Malaysia. She also seems to like travelling a lot, having been to Thailand, Singapore, Hong Kong and is already planning her next trip.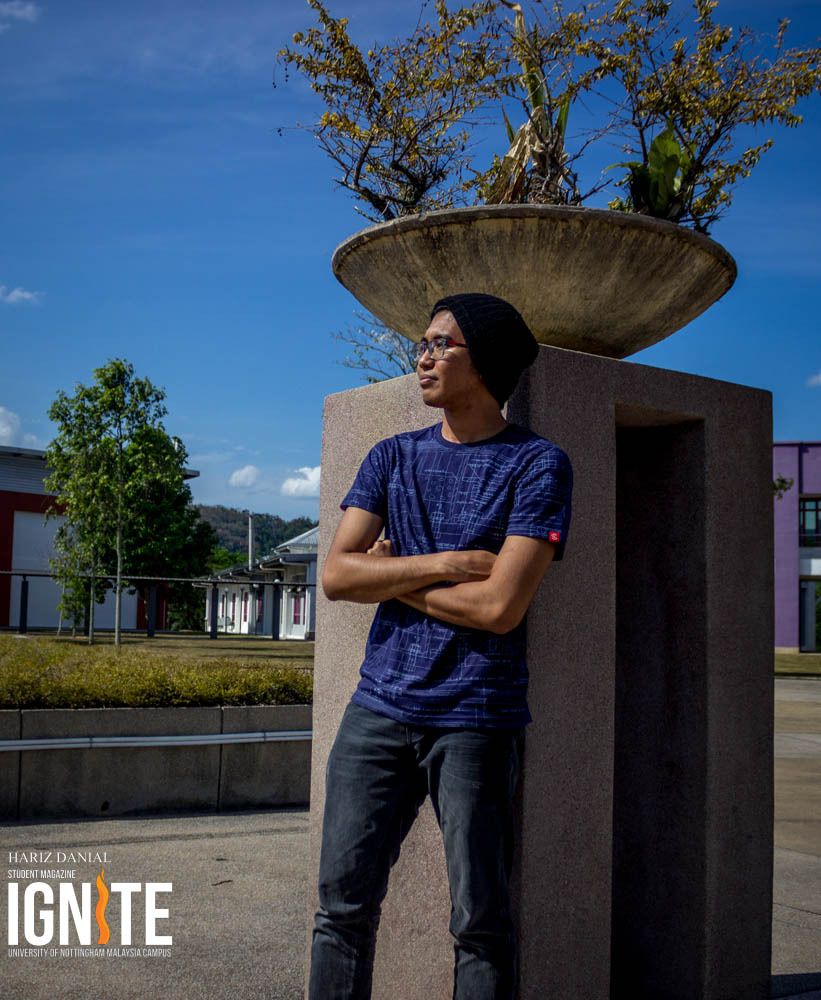 Ahmad Danial
Having done foundation in Arts and Education, Danial professed a liking for history and political analysis. He is currently taking IR with Spanish. Back in foundation the problem was choosing between IR and International Communication Studies (ICS). After discussing with his father, he decided on the course that would presumably secure him a job more easily. When working, one finds that they are able to work harder and perform better when doing something they enjoy.
During his time in Nottingham, he learned that critical thinking is an important skill to rationalise and logically deal with problems. He finds that he likes wrestling with different perspectives and realities.
If you're faced with hardships, rationalise what the problem is and think of a solution by keeping things in balance
His favourite module is Approaches to Global Politics, which opened up new ways of understanding the international system through the lens of different approaches; realism, liberalism, Marxism, etc. Writing his essay on classical liberalism was what solidified his interest in IR, through the passion and effort of research and self-reflection.
In the future he's working for a vision of a sustainable and developed Malaysia with a high functioning democracy and good welfare for the people. Career-wise, since he enjoys doing work that requires qualitative research, he's entertaining the idea of becoming a researcher in Amnesty among other things.
Michaelle Phoenix
Even before coming to UNMC, studying politics was always an option for Phoenix since secondary school. What sparked her decision was when she took a gap year and worked as a youth ambassador with various foreign commissions. That was when she first had a glimpse of the world of IR.
She received no opposition from her parents to pursue her field of study and so far, the degree is everything she expected and more. She feels blessed because she feels that all of her fellow course mates chose their field of study out of their own free will.
She is taking pure IR so she can choose her electives. She's very passionate about issues pertaining to the environment and finds it imperative to understand the politics of it. Right now, she's hoping to create a niche in Environmental Politics and Diplomacy in UNMC – which means that more optional modules that particularly deal with the politics of the environment will be included in the programme – by consulting Head of School Michael Connors and the School of Biosciences.
She subscribes very much to the UN since a very young age and is currently the president of the UN Youth Nottingham Welfare Division which provides a platform to, in her words, "trail blaze the way forward for youth to contribute to the global cause of action to eradicate poverty, promote prosperity for all and address climate change".
My end goal is to leave the world a little bit better than when I first entered it.
I realised while listening to and writing down my coursemates' thoughts and opinions that, while we're all doing the same degree, we're all approaching it in different ways. It really depends on how we make the best of our learning experience, whether it is through class discussions, coursework assignments, club activities or even books and films.
In actuality, most of us will probably pursue different vocations – IR is meant to open up opportunities for us to work in any field. Some of us may want to  spearhead initiatives and think tanks; others are content with exploring their options. In the midst of juggling coursework, exams and a social life, we are all searching for our goals in life. Maybe we haven't quite found it yet; and it's okay! The important thing is that our paths are guided by personal motivation.
By Nabilah Alshari